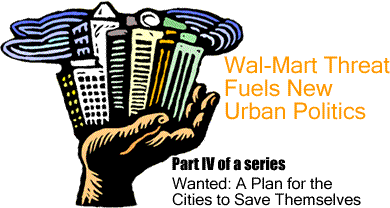 "I urge Chicago and communities across the nation to stop the Wal-Mart-ization of our economy. Some may say 'these jobs are better than no jobs,' and are attracted to Wal-Mart's promise of 'jobs and low prices,' especially in these times of high unemployment and the need for community economic development. But a closer look at Wal-Mart exposes it as a Confederate economic Trojan horse. On the outside, it looks like a show horse. But open it up and what do you see: jobs at welfare level wages; jobs without health care benefits; jobs without the right to organize; a Wal-Mart that forces out local small business and throws their workers into the unemployment lines….

"This month, the communities of Chicago must place their vote in Wal-Mart's path. It will be a signal to communities everywhere that the giant monopoly Wal-Mart, the largest private sector company in the world, with all of its economic power and wealth, can and will be defeated. We must stand up. Let us not forget that Dr. King spent his final days organizing for the right to organize, for livable wages and health care benefits for all. The shadow of his life obligates us to fight Wal-Mart; we will not change our course. Wal-Mart must change its course."
"In the 28-mile area around where the proposed store will open (the typical market area for a big box retail store in an urban market), there are 763 retailers that do business in one or more of the retail sectors that competes directly with Wal-Mart. Among those, there are 61 general merchandising stores and the 40 discount retailers that will likely bear the brunt of job loss…. Without a doubt, the vast majority of the residents who live within the expected service area of the proposed store already have comparable retail options. If the proposed Wal-Mart store opens, the retail options will undoubtedly decline as will the total number of jobs in the local market….

"In terms of the fiscal impact…the City of Chicago should see a slight increase in sales and property taxes. Overall there will be a net tax gain for the city, albeit only a slight gain over the life of the project."
"It seems to me that by targeting minority areas, providing weak pay with poor benefits, they are targeting those that need good jobs the most….

"I have witnessed first hand the effect that predatory competitors have on our contracts. Management always says that they cannot afford to continue paying us decent wages because they have to compete with retailers that  sell everything at discount price. We are constantly told that they must lower what we receive, in order to lower their prices, retain customers and remain competitive. This is low-road employment"
must recognize that sections of the business community share the fundamental objectives of our High Road. And a broader segment of the business community has at least a material interest in the success of building the economy, no matter what strategic alliance guides development. Business people bring indispensable skills and resources to the process, and must be attracted and recruited to our efforts. In return for their work, they must be rewarded with fair compensation and return on investment, with partnerships that enhance the performance of their companies, and inclusion in all aspects of our community.
"Ideally, cities should make a community needs assessment and baseline community benefits part of every subsidized project. A citywide policy for subsidized projects could do just that. This would promote uniformity, avoid lengthy and repetitious project-by-project battles, and ensure that all subsidized projects in a given jurisdiction provide some basic community benefits. A push for a citywide community benefits policy also provides a valuable opportunity for coalition-building and strengthening organizing networks."


May 20 2004
Issue 91

is published every Thursday.
Printer Friendly Version