Not content with direct gifts of urban assets, capital has converted every social initiative to its own service. The New Deal-inspired revitalization of cities became Urban Renewal – Negro Removal – now often exemplified by the Hope VI public housing demolition program. Urban executives, backs bent in permanent begging postures, cannot resist federal funds, even when they are used to displace forever their own constituents. Writing in the July/August issue of Dollars and Sense magazine ("From HOPE VI to Hope Sick?"), Sabrina L. Williams concludes that "HOPE VI has strayed from its initial intent of rehabilitating 6% of the nation's public housing stock; instead, it has funded the demolition of housing which was often decent, just in the wrong – too desirable – place at the wrong time. It has displaced many thousands of poor families to meet the demands of private developers." <![if !supportEmptyParas]> <![endif]>
There are scores of examples of speculative capital's hijacking of HOPE VI. Williams, executive director of Los Angeles-based home&community, inc., cites this one: <![if !supportEmptyParas]> <![endif]>
"The Clippership development in East Boston, for example, was called a 'jewel' of public housing by the local housing authority administrator only two years before the housing authority sought HOPE VI funding to demolish it, characterizing it as severely distressed….  According to the residents, Clippership did not suddenly become 'severely distressed.' Rather, East Boston's real estate boom prompted the BHA [Boston Housing Authority] to realize that the real 'jewel' of Clippership was not its tight-knit and safe community, but rather the land under the townhouses, with its spectacular harbor views." <![if !supportEmptyParas]> <![endif]>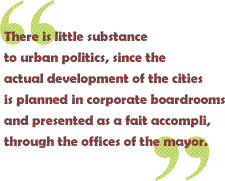 The national urban landscape is cratered with the impact of federally financed, wholesale banishment of the poor to – no one knows where. Although "one-for-one" public housing tenant relocation agreements have been struck in scattered cities, the norm is that affordable housing is never found for large proportions of displaced families – resulting in Negro Removal combined with a city-sanctioned program of gentrification. <![if !supportEmptyParas]> <![endif]>
Are the (often Black) electoral leaders of such cities heartless, cynical agents of their own constituents' misery? Surely, some of them are – but even officeholders with the best intentions are helpless to find the optimum place for people in a city that they themselves do not understand, whose assets and many-layered configurations are unmeasured (except by private predators, for their own narrow purposes) and are, therefore, unavailable to the public. Consequently, there is little substance to urban politics, since the actual development of the cities is planned in corporate boardrooms and presented as a fait accompli, through the offices of the mayor. <![if !supportEmptyParas]> <![endif]>
30 years without a plan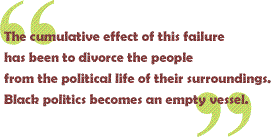 The many powers of cities and counties – including eminent domain – are useless to the people in the absence of an Audit and Plan informed by principles such as outlined in Part I of our series – most importantly, that development occur for the benefit of current residents. (Such plans may encourage large influxes of new populations – or not.) This principle demands a new Black politics, strategies that, in omniscient hindsight, should have been developed 30 years ago when Black political power was gloriously ascending over newly claimed urban territory. In the interim, the vote has lost its luster for much of urban America, a catastrophe that must be placed at the feet of African American leadership for failing to treat the cities as assets in their own right, and for having left real city planning to the same people who nearly divested the cities to death, twice. The cumulative effect of this failure has been to divorce the people from the political life of their surroundings. Black politics becomes an empty vessel. <![if !supportEmptyParas]> <![endif]>
The post-war suburban domestic white Marshall Plan has run its course, and capital is again knocking on the doors of the cities, accompanied by the young white gentry. As a result, what remains of the un-audited assets of the cities is even more valuable. Yet, generally, urban chiefs continue in their giveaway and garage sale mode, smiling even more broadly as they squander the public legacy through subsidies, abatements, and outright gifts to corporations. Having learned little but the arts of begging during three decades of urban stewardship, they collaborate in shrinking the prospects and relative numbers of their political base. Incapable of doing more than improvise on the corporate script, they offer little to swelling Hispanic populations at this critical demographic juncture – people who also need an Audit and Plan for their new hometowns, to counter the more hostile schemes of capital. <![if !supportEmptyParas]> <![endif]>
Black leadership in the cities – on which national Black power rests – was gained by default during the Great Urban Divestment. Unless new or re-educated Black leadership emerges during the current period, as capital and affluent non-Blacks seek to reshape the cities, African Americans will lose their pivotal role in the national debate, and progressive politics will collapse.
Black labor's unique calling <![if !supportEmptyParas]> <![endif]>
It is the historical responsibility of Black Labor to become an incubator of leadership for African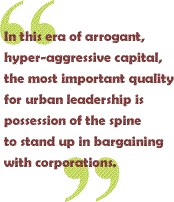 Americans, city dwellers, and progressive politics in the U.S. Black unionists are uniquely suited to replace the voices of the crumb-snatching crowd that misleads so many cities, small men and women with no urban development vision beyond a handful of Black business subcontracts and token minority hiring sops to Black workers. <![if !supportEmptyParas]> <![endif]>
Black labor brings to African American leadership the same big-picture vision and zeal for group solidarity – a willingness to act collectively – that has disproportionately drawn Blacks to unions, where they are among the most militant activists. (Roughly one in five Black households are union.) Labor men and women are comfortable with taking on an adversary role with capital, as a matter of routine. In this era of arrogant, hyper-aggressive capital, the most important quality for urban leadership is the spine to stand up in bargaining with corporations – as opposed to those "leaders" who secretly seek their own careers in executive suites.
Black labor understands that normal people are looking for generational security for themselves and their children. Blacks have been in the forefront of moving their unions to fight for the general welfare, beyond workplace and payday concessions. The Coalition of Black Trade Unionists, founded in 1972 to give voice to the unique worldview of Black working people and as a logical extension of the civil rights movement, is also a prime mover in the Living Wage Movement, whose vision is informed by the principle "that public policies and funds should not perpetuate poverty or stifle people's abilities to organize their way out." (See "The Living Wage Movement: A New Beginning," May 8, 2002.) This is the vision that belongs in leadership councils and city halls across the nation, the kind of solidarity that does not accept federal dollars to tear down fellow citizens' homes and leave them –totally adrift.
Black urban leadership needs men and women who do not recoil at the mere thought of large numbers of African Americans living in high-density neighborhoods (most large, predominantly Black cities are actually under-populated), and who will see their constituents as people whose needs come first, rather than as impediments to some "public/private" partnership to create a "better" city for other folks.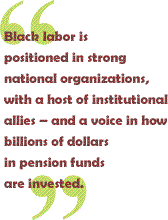 As Hispanic numbers approach and exceed those of Blacks in many cities, it is critical that the two groups find ground for interaction beyond hollow competition for patronage and public profile. Commonalities and solidarity will be found in healthy debate over the nuts and bolts of city planning, rather than the dead ends of narrow ethnic politics. Black labor is already experienced in this arena, having grappled with the overwhelmingly working class Latino immigrant explosion at the workplace. Black labor's experience and leadership in finding common cause with new immigrants is indispensable to the future of cities.