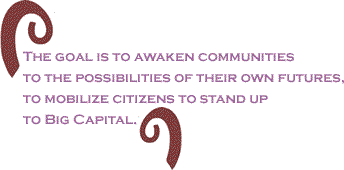 Black America and urban America, near-synonyms for two generations, stand at a crossroads, their destinations in doubt. It can no longer be assumed that the fates of African Americans and the nation's cities are entwined, that each will prosper or decline in tandem with the other. A great wave is building that threatens to wash across the urban landscape, loosing Black populations and institutions from their moorings and casting them – adrift. Big Capital assembles itself to drown a dream. <![if !supportEmptyParas]> <![endif]>
There is also the potential for self-rescue through vision and with tools that are near at hand. The cities will be transformed, of that there is no doubt. But unless Black political institutions transform themselves more rapidly than Big Capital's rush through the urban core, there will be no base for collective African American action, no harbor for the dreams of a people. The nation itself will lose its soul to the disconnecting, atomizing fury of organized greed. <![if !supportEmptyParas]> <![endif]>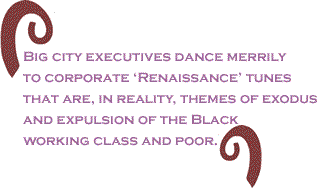 Both scenarios are in motion. In Washington, DC, a corporate servant sits in the Mayor's chair, plotting with Big Capital to make the city "fit" to receive 100,000 new residents while simultaneously creating unlivable conditions for many tens of thousands of current, overwhelmingly Black Washingtonians. Their fate is to become scattered human detritus, exiled to other, untenable locations. The dream of popular Black power in the metropolis, never and nowhere equal to its potential, leaves with them. <![if !supportEmptyParas]> <![endif]>
Across the nation, big city executives dance merrily to corporate "Renaissance" tunes that are, in reality, themes of exodus and expulsion of the Black working class and poor. Pushed out by corporate-dictated public policies that celebrate youth, affluence and whiteness, families and entire neighborhoods retreat across jurisdictional lines to nearby "suburbs" that are demographic near-duplicates of their formerly affordable neighborhoods. An exaggerated, misleading narrative of Black upward mobility through suburbanization is popularized, based on data that actually reflect, in large part, the push-out from central cities. <![if !supportEmptyParas]> <![endif]>
New tools for the people
Yet popular forces are gathering, too – and some of them have money as well as numbers and brainpower. In Milwaukee next week, labor unions and community activists will hold a "Tools for Communities that Work" conference, co-sponsored by Good Jobs First (GJF). Washington-based GJF, headed by Greg LeRoy, has taken the lead in scrutinizing the $50 billion in annual state and local subsidies to private corporations – gifts of cash, public property and future tax revenues that drain cities of the resources to resist corporate domination, and set in motion the triaging of services that make urban life viable for poor and middle income residents. <![if !supportEmptyParas]> <![endif]>
Madeline Janis-Aparicio is one of the stars of the Milwaukee conference. Her Los Angeles Alliance for a New Economy (LAANE), part of a Growth With Justice Coalition of church, labor and community groups, seeks to make developers accountable to the community.  The Coalition's "Community Impact Report" would "require developers to list the potential effects of a project – everything from the number of affordable housing units included to the type of medical and health benefits the contractors would provide for their workers – and go through a public hearing before beginning construction," according to LA Downtown News. <![if !supportEmptyParas]> <![endif]>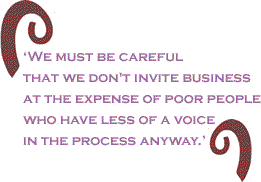 "The CIR fits with the Catholic principle that even private goods are not to be used without attention to the impact on the whole community," Vincentian Father Mike Walsh, associate pastor of St. Vincent Church in Los Angeles told The Tidings, a southern California weekly Catholic newspaper. "We must be careful that we don't invite business at the expense of poor people who have less of a voice in the process anyway." <![if !supportEmptyParas]> <![endif]>
Janice-Aparicio's group combines "a vision of social justice with a practical approach to social change," through "a powerful coalition of community organizations, unions, religious leaders, academics and elected officials." In practice, that means putting limits on the power of money to shape the destiny of the cities. Two years ago, writes Bobbie Murray in The Nation, LAANE  "came up with a new accountability concept that has caught national attention in the movement: community benefits agreements."
More than just a mechanism to pry loose a few jobs from developers, the goal is to awaken communities to the possibilities of their own futures, to mobilize citizens to stand up to Big Capital and the Black, brown and white politicians that serve it. It is through movements such as this that a new Black politics can be born.
<![if !supportEmptyParas]> <![endif]>
One step leads to another <![if !supportEmptyParas]> <![endif]>
In California and elsewhere, the Living Wage Movement is the tie that binds most of the players together. Greg LeRoy looks forward to a "terrific broadening of the living wage movement to expand into subsidies." San Francisco this week passed a ballot measure to raise the citywide minimum wage to $8.50, boosting the salaries of more than 50,000 low-income workers "with only moderate costs for most businesses affected," according to New York University's Brennan Center for Justice. <![if !supportEmptyParas]> <![endif]>

Black labor was midwife to the Living Wage Movement. In 1994, Coalition of Black Trade Unionists (CBTU) President Bill Lucy, Secretary-Treasurer of the American Federation of State, County and Municipal Employees union, brought together the "AFSCME-led coalition of labor and religious leaders in Baltimore [that] won enactment of a law that required private firms to pay their workers a living wage, or lose their contracts with the city." (See

"The Living Wage Movement: A New Beginning," May 8, 2002.) More than 110 cities have passed Living Wage laws, to date. <![if !supportEmptyParas]> <![endif]>
Organized labor will be the weighty presence at the Milwaukee "Tools for Communities that Work" conference, November 9 – 12. With $4 billion invested in its Housing and Building Trusts, the AFL-CIO's pockets are deep enough to earn a seat at the urban development table. (The total value of pension funds is $7 trillion but, as Greg LeRoy points out, "In no case do unions have more than half the seats" on the boards that administer those funds.) Activists will engage union executives in a discussion of "Labor, Sprawl and Smart Growth," a debate that inevitably leads to the need for public intervention to tame and resist, rather than hold the hands, of Big Capital.
CBTU President Lucy, in his capacity as AFSCME's number two executive, is urging local presidents and secretary-treasurers to find ways to "marry" social investment strategies with projects undertaken by churches, even the storefront kind. He encourages his troops to "broaden their thinking" to examine what can be done with union pension funds "within the scope of their authority." And there lies the essential urban challenge to labor in general, and Black labor most particularly. Labor accepts (and the CBTU embraces) its social responsibility to the larger community. Union pension managers also have a fiduciary responsibility to the men and women whose deferred wages they are investing. The world of development is much like a battlefield. Sometimes, there can be no quarter. <![if !supportEmptyParas]> <![endif]>
For example, anti-union Wal-Mart, the ultimate "big box" retailer, packs a kill-radius of miles. "There are times when a project is so bad, it should just be stopped in its tracks. Like Wal-Mart," says Los Angeles Alliance for a New Economy executive director Janis-Aparicio. "It's a death star, killing all the local businesses." <![if !supportEmptyParas]> <![endif]>
If labor cannot muster the popular forces necessary to beat back a Wal-Mart invasion of a neighborhood, it cannot protect its social investment in that area – its fiduciary responsibility.
<![if !supportEmptyParas]> <![endif]>
No more dreams deferred <![if !supportEmptyParas]> <![endif]>
As corporations "rediscover" the cities, unions must leap with all four feet into the realm of city planning, and allocate substantial resources to those urban movements and community institutions that can ensure the viability of union-backed projects. Labor must commit itself to safeguarding the assets and internal economies of the cities by aligning itself with those who will fight Big Capital's most destructive, people-dispersing schemes.
Labor must take the lead in nurturing Plans, tailored to every targeted locality. In the process of formulating plans for the cities, people's dreams become tangible – and as Dr. Martin Luther King understood, dreams are the real stuff of movements. It is the stuff that is lacking in far too many Black-led urban political groupings, circles that care more about a piece of the next corporate contract that floats their way than the stability, prosperity and dignity of African Americans as a whole.
Click here to read Part 1 of this series.
Click here to read Part 2 of this series.
Click here to read Part 4 of this series.
Click here to read Part 5 of this series.