On March 16, former Harvard student Brittany Smith was indicted for her alleged involvement in a campus shooting that left a man dead.
Smith was charged with being an accessory after the fact in the May 2009 murder of 21-year old Justin Cosby.  Specifically, Smith is accused of participating in a drug deal gone bad, of giving three New York men—including her boyfriend—access to her Harvard ID swipe card, which gained them access to her Kirkland House dorm.  The men allegedly robbed and shot Cosby, who is linked to the campus drug trade and died the next day.  Smith allegedly hid the murder weapon, helped the men escape, and lied to a grand jury.  In other words, she's in a heap of trouble. And while the accused are innocent until proven guilty, she deserves little of your sympathy if all of this is true.  But that doesn't mean that we cannot mourn ruined lives, and the loss that is associated with broken dreams unfulfilled expectations. 
Smith and another Harvard student linked to the incident, Chanequa Campbell, were banished from the college and not allowed to graduate.  Campbell, who has not been charged, came short of accusing Harvard of racism.  "The honest answer to that is that I'm black and I'm poor and I'm from New York and I walk a certain way and I keep my clothes a certain way," Campbell told the Boston Globe, in response to a question about Harvard's reason for ordering her to leave. "It's something that labels me as different from everyone else."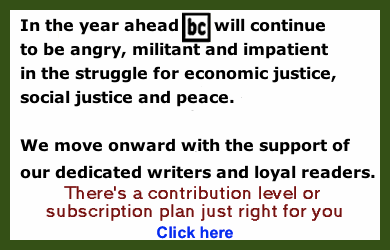 To be sure, Campbell and Smith did not receive the support from black folks on campus that Professor Henry Louis Gates enjoyed after his incident.  Of course, I speak of Gates' altercation with a Cambridge police officer as the scholar tried to enter his home.  But then again, Gates had done nothing wrong except "break into" his own house while black.  The students' alleged association with the campus drug trade, and their apparent involvement in the incident in question, resulted in the murder of a young man on campus.  It is not my goal to prosecute this case in this commentary, nor can I assess whether race played any role in this case.  But I do know that cries of racism ring hollow here.  Drugs are no stranger to Harvard or any other university, and while Harvard students have experimented with drugs for years, never did it result in a drug-related murder.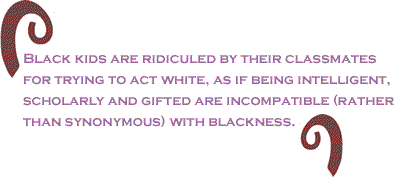 The lesson learned here is to mind the company you keep.  This goes for African American students, and anyone else for that matter. 
The fall from grace of these two Harvard students, these young black women with faded promise, reminds me of Edmund Perry. In 1985, 17-year old Perry, a Harlem native and then-recent graduate of Phillips Exeter Academy who was about to enroll in Stanford, was shot to death by a plainclothes police officer. Witnesses claimed Perry and his brother, a Cornell engineering student, tried to mug the officer. It just so happens that Eddie, who decried his prep school's racism and "adopted a street-savvy swagger to mask his own insecurities", was dealing drugs at Exeter. White folk with something other than good intentions tried to use this incident to prove the argument that, you can dust them off, dress them up and school them as you may, but "these" people are beyond our help.
And in 1994, 24 year old Kemba Smith pled guilty to conspiracy to distribute crack, and was sentenced to 24.5 years. Her case was a true travesty, and put the spotlight on America's harsh, draconian and disproportionate drug sentencing laws.  Her true crime was having an abusive drug dealer boyfriend, a guy she met as a student at Hampton University in Virginia. Smith described herself as someone who grew up in a sheltered middle-class existence, and hung out with the wrong crowd at school.  Fortunately President Clinton pardoned her after she served six years, and she can use her second chance in life to teach others.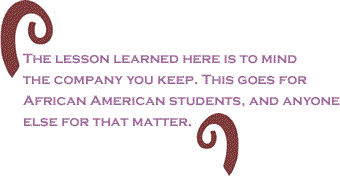 These cases are blatantly vivid reminders that young people, in this case African-American, lead fragile lives. Even for those who appear to be gliding on a road to success, that road is precarious and fraught with danger. There are negative influences and the corrosive effects of peer pressure. Black kids are ridiculed by their classmates for trying to act white, as if being intelligent, scholarly and gifted are incompatible (rather than synonymous) with blackness. College-bound students of color have a hard time of it, often with little support even from family, and incurring the resentment of a community short on opportunities.  Some young people cannot reconcile their personal aspirations with their desire to "keep it real" and stay true to their community.  Perhaps they can't take the pressure of navigating two worlds, and the culture shock it entails.  Perhaps in this materialistic society, they lack grounding, whether social, political or spiritual, and they eke out an existence feeding on media stereotypes.  Maybe we are all to blame for not properly imbuing children with more character-building, positive influences.  Maybe they just aren't comfortable living in their own black skin. 
This is not to make excuses for those who seem to have so much, yet waste it all.  After all, many people have soared high with much less to work with, while others seem to squander their opportunities and fall so far, so hard and so fast.  Certainly it is not as simple as a case of black youth gone bad, of rotten criminals getting what they deserve.  Nor is it as simple as a case of racial victimization.  I don't think the civil rights movement fought for the right of black students to get caught up in the campus drug game, with dead bodies strewn along their path.  But one thing is certain: we must learn from the Chanequa Campbells, the Brittany Smiths, the Kemba Smiths and the Edmund Perrys.  We must learn what can go wrong when you are young, gifted and black. 
BlackCommentator.com Executive Editor, David A. Love, JD is a journalist and human rights advocate based in Philadelphia, and a contributor to The Huffington Post, theGrio, The Progressive Media Project, McClatchy-Tribune News Service, In These Times and Philadelphia Independent Media Center. He also blogs at davidalove.com, NewsOne, Daily Kos, and Open Salon. Click here to contact Mr. Love.