We hope you won't be shy. We want to hear what you have to say. Click on the image below and get started. Please begin your comment by stating your first name and your city. This is an exciting new feature for us and we hope you will enjoy it. The call is free. Please speak up - no whispering allowed! If you blow it or don't like what you did, just let us know by saying something like "dump this one", hang up and try again.
You may answer our question or comment on any issue.
Double Click on the Call Me button below and enter your name and number
Google Voice will call your phone number and connect you to BC
Record a Talk Back voice message of any length
If you would rather write your response, click here to visit Reader's Corner
Begin your message by stating your first name and your location
After you recored your comment please check back to listen by clicking on the image below. Comment moderation has been enabled. All Talk Back messages must be approved by BC. We will endeavor to publish voice comments as soon as possible after they are received.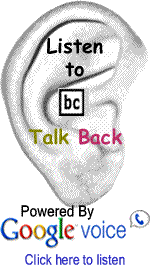 While you are vising BC, please check for the latest breaking news on our BC_Nation twitter feature. You don't have to have a twitter account to click on the image below to read items from the Internet selected by BC's Editorial Board members, Columnists and Commentators.