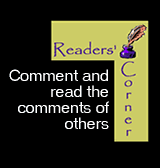 BC Question of the week: What is your take on Obama's Afghan Buildup?
If you would like to comment about something in BlackCommentator.com or any issue that concerns you, please do so below. You do not need a Facebook account. Your comment will be posted instantly. Thanks for your readership.
If you are commenting on a specific article in BC, please make a note of this fact in your message so other readers will know what you are talking about.
Entering your email address is not mandatory. You may also choose to enter only your first name and your location.
---
is published every Thursday
Executive Editor:
Bill Fletcher, Jr.
Managing Editor:
Nancy Littlefield
Publisher:
Peter Gamble
Est. April 5, 2002