BCís call for New Yearís Resolutions that Iím making for myself, or that Iíd want someone else to make for themselves has me in a bit of a pickle. I hardly ever bother with New Yearís resolutions - in my younger days Iíd generally pick something grandiose that wouldnít ever get done or happen, and that got me out of the habit. As you get older, you learn to break down problems into smaller more manageable bites to where you donít get overwhelmed by them and quit.

Maybe I ought to look again at New Yearís resolutions in that light, and pick smaller ones, rather than one like learning French.
Thereís something for the resolutions too, for some one thing or another to improve the world. Theyíre fairly common and thereís not a thing wrong with them. Just pick the right thing to do, and do it; Iím with that. But they are kind of small and easy, most of them. Pick a little bigger one, OK? Or maybe two?
But you also learn as you get older is that the only person in the world you can change is yourself, and that ainít easy; it takes a lot of time too, and it doesnít always work. And when you get down to it, most New Yearís resolutions are about trying to change yourself. All the resolutions that involve your doing something fun or interesting are going to happen anyway; all the resolutions about anything else are about changing yourself. BCís asking for a New Yearís resolution for someone else goes hard against the plain reality that you canít change someone else and that you shouldnít try. That and asking people to be different or better is just the same sort of wishful thinking like what youíd do if you had a million dollars. It is a pointless, time-killing diversion.
But these years Iím solidly middle aged, and Iíve learned some other things getting there. The most important thing that Iíve learned that would tie into a New Yearís resolution is how hard being a decent and upright human being is in American society. I swear that the unofficial motto of the US is: ďWell, thereís me the person, and me the job.Ē Myself, I always thought the Almighty thought different there. We canít get away from that endemic ugliness. But there are all sorts of small decencies and kindnesses you can do that you donít necessarily have to do that you should - most of them involve opening your eyes and not doing the shoving-your-way-to-the-front-of-the-line sort of things we do too often, that our greedy and materialistic society pretty much tells us to do. Instead, there are things like opening doors for people and letting people in at traffic* - and doing these small things more - is a good New Yearís resolution because not only are you doing something small but useful to make the lives of people in this world better. And at the same time, you are doing something small to make yourself a better person. And keeping your eyes open for the small things to do - well thereís one hell of a lot to be said for keeping your eyes open more and paying attention more anyway. That is a resolution for self-improvement and world improvement thatís within reach. Think about it, and think about it in your daily living after New Yearís, too.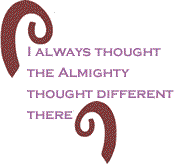 If you want to do the one-act things for making this a better place, here are my suggestions:
Plant a tree - not just any tree, but the right tree, and plant it right, in the right place, and most importantly, take care of it once you plant it to where it makes it. Water it in the summer and more when it needs it.† Make it grow and succeed, and if you fail, well hell, replant it next year and do better.**
If you have the chance, talk some young person out of going into the military and keep them from being a part of our two and a half wrong and shameful wars. Better still, MAKE the chance to talk to young people to talk them out of the war. And if you have the chance to help some GI get out of the Green Machine, do it.

There are lots of good one-act things to do. Do one. Or two. And if you can round up someone else to do these things with, well thatís even better, and you should try to.
Thatís my take on New Yearís resolutions. Happy New Year to all of BCís staff, and to all its readers, too.
BlackCommentator.com Guest Commentator, Daniel N. White, has lived in Austin, Texas, much longer than he figured he would. He reads more than most people and a whole lot more than we are all supposed to. He is still doing blue-collar work for a living - you can be honest doing it - but is fairly fed up with it right now. He invites all reader comments, and will answer all that arení t too insulting. Click here to contact Mr. White.
*I donít think Iíll do that for SUV drivers yet
**Anybody who has questions about planting trees or just has a hankering to should drop me a line and Iíll give you the lowdown on it - a sketch and a page of instructions - which will tell you most of what you really need to know.