Recently, Dorothy Height of the National Congress of Negro Women, Rev. Al Sharpton of the National Action Network, Ben Jealous of the NAACP, and Marc Morial of the National Urban League, wrote President Barack Obama asking for a meeting about the state of Black employment and with the ensuing invitation, all but Height went to the White House in a snow storm for a one hour meeting.  The clearest version of what happened was stated by Marc Morial: "We worked very hard to share with him ideas around the need for targeted relief – and that means urban communities, to areas of high employment" so, as Ben Jealous said, the focus of the talk was more on place than race. 
The consensus feeling was that President Obama "got it" but that he was also focused on passing a jobs bill he thought would address some of the issues.  Sharpton explained the purpose of the meeting as "getting a commitment from the administration to make sure that all of these things were factored in," as they went to meet with Republicans and Democrats about the jobs legislation.  He admitted that the President "was not going to engage in any race-based programs" but felt that some of the "structural inequalities" could be corrected.    

This reminded me of his comment to April Ryan, White House Reporter for the American Urban Radio Network that, by law, he couldn't pass laws "that say I'm just helping black folks."   I don't believe that is true, or he couldn't pass laws for Gays or Native Americans, or write Executive Orders for Asians and Pacific Islanders.   So, Sharpton reported they "didn't ask for a race-based program, but wanted to make sure that everyone was involved" in the debate over jobs. 
But what does that mean in legislative terms?  First, I think that the president does have a responsibility to say to the Congress that he wants special coverage in the jobs bill for communities that have been hit the hardest.  Presidents have done this for years.  But second, I think he could do much more.  In January of 1998, Rev. Jesse Jackson, Sr. played a major role in inducing Bill Clinton to propose a "New Markets Initiative," aimed at underserved areas, feeling that his Race Initiative lacked this vital dimension. 
Clinton did two things.   He first made a poverty tour throughout the country to places like Hazard, KY, the Mississippi Delta, E. St. Louis, Watts (LA), Pine Ridge Reservation, and South Phoenix, AR.  He then drew up legislation and succeeded in getting Dennis Hastert, Republican Speaker of the House to support it.   The "New Markets Initiative" finally passed on December 14, 2000 and it consisted of a $15 million Tax Credit for companies investing in low and moderate income areas; $180 Million for a Venture Capital fund to provide seed money for companies to invest in underserved areas; strengthened and expanded Empowerment Zones; identified 40 Renewal Communities for revitalization -- HUD would design the packages of assistance; and the expansion of a Low-Income Housing tax credit.   This modest program should be adopted and vastly expanded.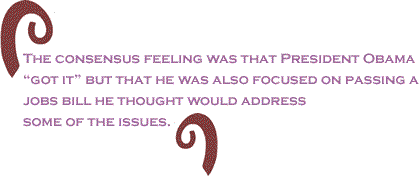 Second, Clinton had a series of meeting with business leaders to use the $180 billion in Venture capital funds to start new businesses in the underserved areas.  Understanding that the government could only go so far, he wanted to incentivize private firms to invest in these areas.  But the Bush administration neglected the program and changed the incentives of businesses with massive tax cuts that led investment to much larger projects overseas.

Right now, the metro area anchored by Detroit has the highest unemployment rate in the country at 15.4% according to Department of Labor.   But the City, which had an official unemployment rate of 31% in December 2009, has an actual rate of 50% as analyzed by the Detroit News.   So, this 82% Black City, where one out of two people are unemployed, should be targeted.  Why could Obama, for example, not lean on the Congress to pass legislation where communities at 20% (or 200%) of the official national poverty rate (10%) or more should receive a proportionate share of the $18 billion package?
The current Senate job bill is too anemic to do much about employment and measures proposed by the Congressional Black Caucus such as money for summer jobs, affordable housing and public service jobs where minorities are represented are not included.   So, Civil Rights leaders are right to try to get the attention of the President and the Congress, but we may all have to get involved to get this done right.
BlackCommentator.com Editorial Board member, Dr. Ron Walters, is the Distinguished Leadership Scholar, Director of the African American Leadership Center and Professor of Government and Politics at the University of Maryland College Park. His latest book is: The Price of Racial Reconciliation (The Politics of Race and Ethnicity) (University of Michigan Press). Click here to contact Dr. Walters.