George Bush doesn't want you to talk about empowering the people of Africa – and neither do some African Americans. Issuing thinly veiled threats, these individuals and organizations appropriate to themselves the colors Red, Black and Green, and label as treasonous all Black criticism of their current Strong Man of choice, Zimbabwean President Robert Mugabe.
Espousing a twisted kind of Black "solidarity" that mirrors the "patriotism" of the white Right in the U.S., these groups claim that criticism of Mugabe gives aid and comfort to American and British schemes against the national independence of Zimbabwe. Since the Americans and British are always scheming to commit crimes against Africa, the threat to Black American critics of Mugabe and other African Strong Men is meant to be a permanent injunction. Under these terms, the time will never be right for progressives in the Diaspora to make common cause with the African people, if that involves strong critiques of specific African governments.
This crude gag rule was invoked in June against signatories to an Open Letter to President Robert Mugabe – men and women who rightfully claim "strong historical ties to the liberation movements in Zimbabwe, which included material and political support, as well as opposition to U.S. government policies that supported white minority rule." The ongoing slanders against the signatories are designed to shut down African American discourse on the subject of African development and democracy, itself. This is absolutely unacceptable.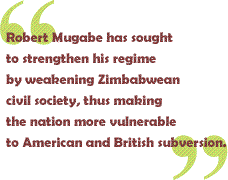 There are stooges of imperialism among the Zimbabwean opposition to Mugabe's rule, including at the very top of the Movement for Democratic Change. That is to be expected. Mugabe's war against civil society in Zimbabwe has succeeded in driving broad sections of his nation into a very small social space. Within that confined and crowded space, he brands all opponents as stooges. His supporters in the U.S seek to replicate those tactics in Black America, so that they can appear to be the true defenders of African liberation. Everyone else is warned to remain silent.
When a man says "Shut up," you defeat him by refusing to do so. The best way to counter this ugly, thuggish and politically vacuous campaign against progressive Black Americans is to speak the Truth about all the parties in Zimbabwe. Our contribution to the debate revolves around five documents, listed and linked below. We invite readers to study the documents in depth.
Strong Man rule creates weak civil societies that are, ultimately, helpless to defend the nation against imperial power. Robert Mugabe has sought to strengthen his regime by weakening Zimbabwean civil society, thus making the nation more vulnerable to American and British subversion.
Black America is not Zimbabwe. This debate will not be throttled.
The Documents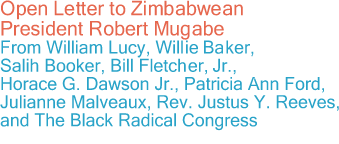 The responsibilities of Black progressives
We must first assert in the strongest terms that it is the obligation of African Americans to treat developments in Africa with the utmost seriousness, to debate issues of human rights and economic development in Africa among ourselves and with others in the Diaspora and on the Continent, and to formulate positions on these matters so that we can most effectively serve the purposes of African liberation.  Circles associated with the December 12th Movement seek to monopolize and smother that discussion through intimidation and slander. This has the effect of narrowing the scope of African American solidarity with the peoples of the continent. It is, therefore, reactionary politics of the crudest kind, and must be rejected.
The mindset of the muzzlers is evident in the words of Professor James Small, the international vice president of the Organization of African American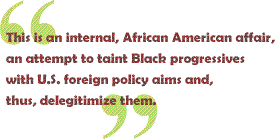 Unity. "There are too many Blacks in America pandering to right-wing elements," said Small, in the June 27 edition of The Final Call. "It is beyond my comprehension why any African American group would openly speak out against any African nation."
An amazing statement, but one that reveals the mentality of those who, as The Final Call puts it, are "in the forefront in orchestrating the response" to the June 3 Open Letter to President Mugabe. Although the December 12 Movement claims that its "hands off President Mugabe and the people of Zimbabwe" statements are directed at the Bush Administration and the British, their real audience is Black America, and the goal is to shut down debate. 
The Bush men could care less what either the December 12th Movement or progressive Black activists, unionists, and clergy have to say about U.S. Africa policy. This is an internal, African American affair, an attempt to taint Black progressives with U.S. foreign policy aims and, thus, delegitimize them – a lowdown, dishonest campaign.
Brink of civil war
In fact, the signers of the June 3 letter had long avoided harsh criticism of Mugabe – no doubt anticipating the reaction from the Strong Man's Black American acolytes – even as the targets of his repression expanded to include virtually all sectors of civil society outside of Mugabe's party control. It had become clear to any honest observer that Zimbabwe was poised at the edge of civil war – a pretext for U.S. intervention.
"In Zimbabwe today, all of our relations and our deep empathy and understanding of events there require that we stand in solidarity with those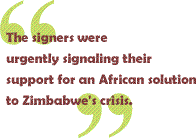 feeling the pain and suffering caused by the abuse of their rights, violence and intolerance, economic deprivation and hunger, and landlessness and discrimination," wrote the signatories, to Mugabe. "We ask that you initiate an unconditional dialogue with the political opposition in Zimbabwe and representatives of civil society aimed at ending this impasse. We call upon you to seek the diplomatic intervention of appropriately concerned African states and institutions, particularly South Africa and Nigeria, and SADC and the African Union, to assist in the mediation of Zimbabwe's civil conflict."
There are two factors that work against a British-American military action to effect a "regime change" in Zimbabwe: the willingness of Zimbabwe's people to resist, and the potential reaction to such aggression from its African neighbors, first and foremost, South Africa. The June 3 signatories have excellent relations with the South African government and the broad coalition that underpins it, including and especially the trade unions. The signers were urgently signaling their support for an African solution to Zimbabwe's crisis. Instead, they have been tarred and feathered as agents of George Bush. How absurd!
Mugabe's generalized repressions weaken the nation, herding masses of the poor into alliances with those who would welcome an Anglo-American intervention (a subject to which we will return, below.) If his African American supporters pronouncements have any effect on Mugabe, it is to stiffen his resolve to resist African mediation – precisely the result desired by the Pirates in Washington.
Indeed, we at

believe that Bush would have already taken military action in Zimbabwe, had the Iraqi occupation not sucked up most American and British military resources. For that, Africa can thank the Iraqis, not Mugabe or his African American surrogates.
Mugabe's belated crusade

TransAfrica Forum President Bill Fletcher, Jr. wrote a followup letter on June 6, titled, "Why We Spoke Out on Zimbabwe." Fletcher undercut the argument – ironically, one put forward with equal fervor by both Mugabe supporters and George Bush and Tony Blair – that Mugabe was the initiator of land reclamation. "[T]he the issue of land redistribution was largely ignored by President Mugabe's government until a mass opposition movement arose that challenged his, until then, undisputed leadership role," wrote Fletcher. "It was only at that juncture that President Mugabe championed immediate land redistribution, but in a manner that benefited not the mass of agricultural workers and farmers, but instead first and foremost the party faithful of the ZANU-PF – the ruling party."
These are facts known to every student of recent history and conscientious news-watcher. Zimbabweans themselves are painfully aware that, after assuming power 23 years ago, Mugabe was quite late to rise up against the global machinery of imperialism. "President Mugabe, the truth be told, supported the structural adjustment policies insisted upon by the International Monetary Fund and World Bank," said Fletcher. "In fact, it was largely the backward and anti-people economic policies of his government that resulted in the development of a major opposition movement in the late 1990s."
Mugabe was not interested in land reform until the issue was forced upon him. After two decades in power, Mugabe attempted to restore his revolutionary credentials by making a show of confrontation with a tiny white landholding class that he could and should have dismantled years before. He proceeded to establish his own tiny clique of new big landowners, while leaving the actual tillers of the soil largely out of the equation.
Naturally, the crisis deepened.
The "enforcers"
We chose to feature Obi Egbuna's article, "Who else but Mugabe?" because the piece was widely read on the Web, and generally reflects the positions of those who pilloried Fletcher and the other June 3 letter signers.
Egbuna begins with threats, his clear purpose for writing. He warns that "any intense attacks or criticism of Mugabe while Blair and Bush seek to orchestrate his demise will put you on a collision course with the sons and daughters of the African Soil all over the planet." Apparently, critics of Mugabe must wait for the "all clear" whistle from Egbuna's Pan African Liberation Organization before venturing an analysis. Or, possibly, the imperialists will declare a time-out on aggression, making it safe for progressives to speak frankly on African issues.
Egbuna must be aware that this is not debate, but an attempt at bullying. He is trying to bring Mugabe's terms of discussion to Black America.
In an effort to excuse Mugabe's years of inaction on land reform – after an agreed upon ten-year moratorium on disturbing white ownership had passed – Egbuna writes: "If the land was seized right away, European and United States media would have had a field day making comparisons of Mugabe to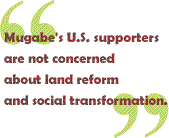 Idi Amin in Uganda which would have been chaotic and it would have complicated things in Azania/South Africa and Namibia." As if the British and American governments and their media have not been having a field day for the last several years! And hasn't the current crisis "complicated things" for South Africa and Namibia? This is too weak for words, but passes for argument in Egbuna's circles – the level of discussion that they would impose on Black America.
Mugabe's U.S. supporters are not concerned about land reform and social transformation. They deal in comic book politics, barbershop rhetoric that means nothing to Black Zimbabweans who have worked the land for generations only to find they have not been favored to own it, or who have gained a deed to a plot but have no access to fertilizers or tools.
Mugabe's stateside supporters like the idea of Africa, but have no ideas on how to empower the people of Africa. They prefer to limit the conversation to seizing the land from the whites, the bulk of whom have already been dispossessed.
Their real mission is to promote the image of the Great Man. "[P]resident Mugabe poses the most serious threat to Imperialist forces on the African Continent," says Egbuna. In reality, Mugabe presents a great opportunity to the imperialists in Washington and London. His repression of civil society makes Zimbabwe ever more ripe for the plucking. At the same time, U.S. and British funding further subverts an opposition that now includes wide sectors of the population.
How to judge a revolution
For an example of the African American discussions that Mugabe's surrogates want to suppress, we offer Professor Horace G. Campbell's "Need for Debate on Realities of Life for the Zimbabwean Working Peoples." Prepared for circulation at the Black Radical Congress' June 20 national conference, the paper provides an excellent basis for discussion among activists who actually care about the people of Zimbabwe.
"More than 300,000 farm workers have been rendered homeless by this grabbing of land by the political class," writes Campbell, a BRC executive council member and professor of political science and African American studies at Syracuse University: