The Black Commentator's core audience is African Americans and their allies in the quest for social and economic justice.

We are delighted to provide you with information about our audience. We believe it is the most impressive weekly gathering of African American and progressive "influencers" available on the Internet.

We're very proud of our growth and impact since the inaugural issue on April 5th of 2002.
Click to view commercial ad sizes, positions and rates
Click to view job posting ad sizes, positions and rates
penetrates the leadership ranks of every organized sector of Black America: grassroots and electoral politics, labor, business, media, professional bodies, fraternities and sororities, and faith-based progressive activism.

We are deeply rooted in the nation's HBCUs and among Black and Africa-oriented academia formations. Our click through data confirms no less than 30% of readers hold advanced degrees.

BlackCommentator.com is widely quoted in the general media and ranks among the handful of "most-posted" Black sites.

's weekly readership also includes non-Black leaders and opinion molders from every social justice-oriented organization in the U.S. - labor, civil liberties, consumer groups, housing advocates, peace activists, etc.

Therefore, impacts the tone and texture of Black and progressive political discussion, from congressional representatives and staffers to local professional and social action organizers.

Because 's audience is heavily weighted toward education; an extraordinary proportion of our readers hold advanced degrees, and many utilize in the classroom and as a research tool. Our data show that reader activity is intense, resulting in the most valuable impressions available on the Internet among this unique, premium demographic. Audience loyalty and identification with is phenomenal. And of course, it's all electronically documented.

In November of 2002 we went weekly - the numbers have surpassed all expectations. We have multiplied our audience while maintaining and deepening its "influencer" profile.
Click to view commercial ad sizes, positions and rates
Click to view job posting ad sizes, positions and rates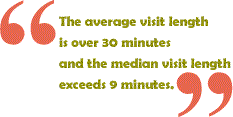 We average no less than 50-thousand page views per issue, 200-thousand page views per month and 25-thousand unique visitors per issue,. You can reach our audience for pennies per impression.

The most phenomenal part of our data is the length of time our visitors spend reading The Black Commentator. The average visit length is over 25 minutes and the median visit length exceeds 7 minutes.

We look forward to discussing your requirements.
Click to view commercial ad sizes, positions and rates
Click to view job posting ad sizes, positions and rates