During decades of urban struggles, nobody Black ever marched for private school vouchers, a scheme born in Dixie to fund "segregation academies" for whites fleeing school desegregation. Fermented and refined for years in the think tanks of the racist rich, southern "massive resistance" has morphed into the even more ambitious school voucher offensive, whose object is nothing less than the destruction of public education.
"We see that the goal is to force out public schools, not encourage them to improve," says Melody Webb, head of Stop D.C. Vouchers. "DC students will become the casualties of a crusade to impose vouchers at all costs."
Washington is, in some respects, the nation's largest plantation – and the Bush men have bought the Black Mayor, Anthony Williams, for a promise and a smile. (See "Black Spinelessness in High Places: DC Mayor sells out on vouchers – for nothing!" May 8) So naturally bowed is Williams' back, he managed to stand up for less than two months before crumbling to White House demands that he accept millions of dollars in voucher money. The Republican Congress in January earmarked $75 million for voucher programs in several cities, giving not a damn that voters across the nation have rejected such schemes at every opportunity presented to them. As recently as last November, a Zogby poll showed 85 percent of DC Blacks and 76 percent of District voters in general, opposed vouchers. No matter. The White House discovered that even its dull-witted Secretary of Education, Rod Paige, could convince Mayor Williams to betray his constituents. Williams agreed to embrace vouchers, in return for vague assurances that the public schools would also see large increases in federal funds – a formula that can be found nowhere in the voucher crowd's grand strategy, existing only in Williams' mind.
Cascading vertebrae
Predictably, a few other spines collapsed on the City Council and the school board – this is a plantation-like place, remember – providing a compliant little quorum that the Bush men could pretend to negotiate with. DC's non-voting Congressional Delegate Eleanor Holmes Norton cried "sell-out!" but that didn't dissuade Williams and his band of peddlers, who imagined that they were engaged in serious palaver. However, just as Williams betrayed his constituents, the Republicans did the same to him – poetic plantation justice.
In February, Arizona GOP Congressman Jeff Flake introduced legislation to subsidize $3,750 yearly in private DC school tuitions for 1600 students. Melody Webb's Stop D.C. Vouchers group takes credit for derailing the Flake bill, through an email and petition campaign. Immediately, Virginia Republican Rep. Tom Davis stepped forward with his D.C. Parental Choice Incentive Act of 2003, doubling the tuition subsidy to an even larger number of students – and not a cent for the public schools.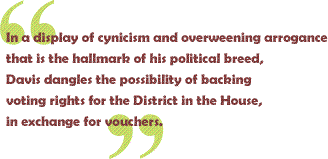 "The Flake plan is off," said Webb, in a June 24 press release, "but like a hydra-headed monster the voucher proponents in Congress have grown a scarier, more powerful head for its voucher-for-D.C. efforts, in the form of Davis' new-and-improved plan."
Rep. Davis has a whip to crack.  As chairman of the House Government Reform Committee, Davis "has unilateral control over legislation concerning D.C. in Congress," Webb explains. In a display of cynicism and overweening arrogance that is the hallmark of his political breed, Davis dangles the possibility of backing voting rights for the District in the House, in exchange for vouchers. (Currently, DC's Delegate cannot vote on the House floor.) Citizens of Washington are asked to accept the imposition of vouchers into their local school system against their democratic will, as the price for democratic rights on the U.S. House floor.
What racist gall! Yet, the imitation of a Mayor, Anthony Williams, is not insulted. Rather, he is encouraged by the Washington Post to believe himself man-like. "He has taken a politically courageous position in backing school choice, given where his party stands on the issue," the Post editorialized on June 24. "The mayor and his supporters are putting parental desires and the educational needs of children first."
Free minstrelsy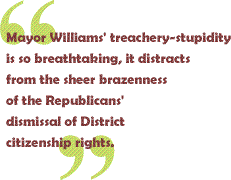 The Post knows full well that the people of DC oppose vouchers, and have demonstrated so since rejecting a voucher tax-credit scheme back in 1981. The paper is an institutional liar and a journalistic fraud, the Big House organ on the DC plantation, bestowing approval on the confused and empty-handed House Negro, Williams. The day before, June 23, the newspaper reported: <![if !supportEmptyParas]> <![endif]>