Dear BlackCommentator.com,
Thanks for the "Who Killed Black Radio News?" commentary. As someone who is a lifelong student of Black media and an in-progress biographer of a 1970s Philadelphia Black radio newscaster named Mumia Abu-Jamal, I very much feel the pain of the BlackCommentator.com editors concerning this subject.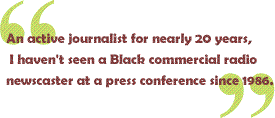 Who knew that we were living in a Golden Age of Black Radio, one that peaked in the 1970s before disappearing? The sobering reality is that no one ever thinks or knows that he or she is living in a so-called "era" until it's over.
When I shared a public television forum with BlackCommentator.com's Glen Ford, a former Black radio newscaster, last year I was saddened to hear him say that every job he held in Black radio no longer exists.
Frankly, the stab wound of his remark has yet to heal. As a Black media proponent, I've spent half my life training for jobs that I now know only existed for Ford's generation, and even then, only between 1967 and 1990.
I'm 35 years old, a full-fledged Gen Xer/hiphop Generation member. I grew up in post-riot, post-Black Power era Newark, N.J., served by 1430 WNJR (which stood for North Jersey Radio), a "soul" AM station. It was one of many such stations that served Black communities nationwide. In the 1970s and 1980s, WNJR played R&B on weekdays and Saturdays and played gospel and local church services all day Sunday. It sponsored community events. Its fulltime newscaster was Bill Franklin. He was my first hero. Franklin's outside-the-studio coverage of the Essex County, N.J. community would be reflected in the sound of his next morning's newscasts. The National Black Network (now American Urban Radio Networks) aired an hourly newscast when Franklin was out gathering sound. As a child, I vaguely remember hearing an older-sounding man report from the United Nations for NBN. His name was Mal Goode. Since WNJR was a staple in our household, I think I was a teenager before I discovered something called "white" radio news! The WNJR I knew died in 1991, when its new owners decided to sell airtime in blocks.
As a young adult coming into racial consciousness, I was told about a New York City "daylight" Black news/talk radio AM station named WLIB. When I began listening to it in 1987, it had a three-hour morning Black-oriented newscast and talk programming for the

remainder of the weekday. WLIB-AM had only one street reporter, Dominick Carter, who seemed to be everywhere during New York's racial unrest of the late 1980s. Civil rights activists such as C. Vernon Mason, Alton Maddox and the Rev. Alfred Sharpton would often make the evening local television newscast announcing some march or rally on WLIB in 1987 or 1988. Its talk show hosts rallied the Black community to vote for presidential candidate Jesse Jackson in 1988, and for mayoral candidate David Dinkins in 1989. WLIB, owned by Inner City Broadcasting Corporation, was boldly Black and not afraid of causing controversy. That was, until it was gutted in the mid-1990s when sister "soul" station WBLS, squeezed by rival white radio conglomerates who were out-souling and out-hiphopping them, couldn't afford to subsidize the Revolution any longer. WLIB is now a shadow of what it once was, and is proud of being that shadow.
In the late 1980s and early 1990s, I also used to listen to "Nighttalk," a national Black talk show broadcast from 1600 WWRL-AM, a station in Queens that had a long history of being a "gospel" powerhouse. Its host was Bob Law, a civil rights activist and WWRL executive. Like most Black talk radio, it was a popular show - among Baby Boomer Black activists. I didn't hold my breath waiting to hear an advertisement. By 2000, that show was gone, too, replaced by a late-night talker hosted by Bev Smith, formerly of Black Entertainment Television. The shift was a result of a power move executed by Radio One, who wanted to co-syndicate Smith along with American Urban Radio Networks. (Law's successor at "Nighttalk," civil rights activist Ron Daniels, was out of luck.) Sadly, Smith's venture has not caught fire, and Radio One cut its losses. Smith's national show continues from the AURN headquarters in Pennsylvania, but is not heard in D.C.
Why did I bring all of this up? Because it's part of a current history that mostly exists in memory. An active journalist for nearly 20 years, I haven't seen a Black commercial radio newscaster at a press conference since 1986.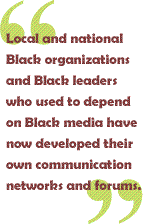 I'm not going to defend Radio One, which on its Black news/talk flagship, WOL-AM, broadcasts only a combination of ABC Radio Network newscasts, AURN feeds (including its White House correspondent April Ryan) and local news readers. But you might find this interesting:
On Radio One's WOL-AM yesterday [June 2], Bernie McCain, a 30-plus veteran of Black radio, gave a little Black radio history lesson in light of yesterday's FCC giveaway. He recalled how Black radio SLOWLY began to serve the community with news staffs - AFTER the riots, the time in which many of these stations became Black-owned. He talked about how the Black audience knew its Black newscasters because those news personnel would be on the scene in those communities. He talked about how Black communities depended on and responded to these newscasts. Like you, he listed the destruction of Black radio news as a by-product of Blacks in radio following whites in radio. He also emphasized the difference between Black news and Black talk. Frankly, yesterday was one of those rare occasions where McCain felt like "telling it like it is." I'm sure you miss that time. I missed it altogether.
Can this era return? I don't think so; at least not in the same way. Too many Black broadcast consumers in America's chocolate cities are very comfortable with Tom Joyner's nationally syndicated "infotainment" model, etc., local television newscasts with Black anchors, two Black cable television newscasts ("BET News" and "MBC News"), PBS-TV's "Tony Brown's Journal," NPR's "The Tavis Smiley Show" and the syndicated television program Mr. Ford helped create, "America's Black Forum." In addition, local and national Black organizations and Black leaders who used to depend on Black media have now developed their own communication networks and forums. (Which, I think, is a BIG reason why the Black community outcry against Black media's de-volution is so small.) And those my age and younger, used to getting its news from the Internet and comedy monologues, won't remember it being any other way.

I actively mourn for the future Bill Franklins and Mumia Abu-Jamals who will never discover their true calling and maximize their creative potential because their traditional space will no longer exist as a fulltime, paid profession. I also mourn for those who will have to hip and hop to get their messages heard by increasingly fragmented audiences. But what can I say? I'm a 20th century traditionalist trying to adjust to the 21st century. The forums we now mourn were new once. So we can at least try to be optimistic and adjust to the fact that mass media spaces are fluid constructs.
At the same time, though, it could easily be argued that Black America is comfortable with the current media environment because it has been trained in a way that puts Pavlov's dog to shame. I know of no evidence that would make me disagree with that assessment.
TODD STEVEN BURROUGHS is an independent researcher/scholar based in Hyattsville, Md. A professional journalist since 1985, he has written for The Source and The Crisis magazines, Africana.com, The New York Amsterdam News, and The (Newark, N.J.) Star-Ledger. He served as an editor, contributing columnist and national correspondent for the NNPA News Service (nnpa.org; BlackPressUSA.com), the nation's only news wire for Black print media. Burroughs is a Ph.D. in Communication from the University of Maryland's Philip Merrill College of Journalism. He can be contacted at

[email protected]