Here's something new from BlackCommentator.com. Our first question of the week feature. It is really a question for the next two weeks because it's August and vacation time and summer may slow things down a bit. We are also leaving this question up for more than one week because the issue is of critical importance.
The question we want you to answer using Talk Back to BC is:
What do you make of the disruptions of the healthcare town halls?
What does this represent and how should progressives respond?
We hope you won't be shy. We want to hear what you have to say. Click on the image below and get started. Please begin your comment by stating your first name and your city. This is an exciting new feature for us and we hope you will enjoy it. The call is free. Please speak up - no whispering allowed! If you blow it or don't like what you did, just let us know by saying something like "dump this one", hang up and try again.
After you recored your comment please check back to listen by clicking on the image below. Comment moderation has been enabled. All Talk Back messages must be approved by BC. We will endeavor to publish voice comments as soon as possible after they are received.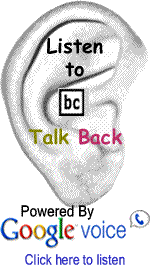 Still on the subject of new stuff - Please check for the latest breaking news on our BC_Nation twitter feature. You don't have to have a twitter account to click on the image below to read items from the Internet selected by BC's Editorial Board members, Columnists and Commentators.

We have noticed twitter is struggling to keep things running smoothly in the face of denial of service attacks and the general technical challenge of running such an enterprise. That's why we have created the interactive menu (above) that will take you directly to the most recent postings on BC_Nation. Remember, you do not need a twitter account to do this. However, if you have a twitter account and are a follower of BC_Nation, you'll get the tweets immediately when they are posted.
I am sure you are not going to be surprised to discover this message also includes a pitch for some money. The latest new features have taken time and effort by some very sharp people who work for BC's role in the movement for social justice, economic justice and peace. If you are able to make any type of financial contribution right now, please do so. Use the button below. Thanks very much.

Another fact that should encourage you to hand over some hard earned moolah is the superior content BC provides. Please look over this Best of BC issue.
As always we thank you sincerely for your readership.
In solidarity and peace,
Peter Gamble
Publisher
BlackCommentator.com
Click here to contact Peter