Last Sunday Ben Stein wrote on how and why executive pay has skyrocketed in the last 15 years. Among other things he pointed out that last year Lloyd Blankfein of Goldman Sachs made $54 million, though the firm's stock is now down from $250 per share to $175 per share (or 37 percent). But Blankfein is a mere piker (my view, not Stein's) compared to Steven Schwarzman of Blackstone. He made over $350 million last year, while the stock is now down 40 percent in the last half year. Nor is either of these guys any great shakes, I note, next to the hedge fund manager, whose name I forget, who made $1.75 billion last year or the year before.
Stein laments this kind of legalized evil, saying the sad fact is that "The nation has become, to some at the top, far more of a looting opportunity than a family." Stein neglectfully forgot to mention, however, that the looters include the Clintons, who, though pikers next to Blankfein or Schwarzman, have done pretty well compared to you and me. During the interregnum between their presidency and their next, hoped-for presidency, they earned a cool $109 million. This is only two years of Blankfein, but maybe about 2,200 years of a normal guy. With regard to herself and her husband, Hillary was wrong when she once said the '80s were all about getting as much as you can. For those two it has been the years after 2000.
Wondering how it has come to pass that America has become a looting opportunity, Stein says "I am not sure where this has come from - maybe from media that glamorize wealth and high end consumption, maybe from poor moral training." I would say he's right on both counts. But he is overlooking yet another and very crucial factor: the Milton Friedman/Ronald Reagan dual monarchy. These two taught Americans that greed is great - not merely good, but great - and you should grab every buck you can. Screw the other guy. Who needs him? Grab all you can for yourself and be damned to your fellow man.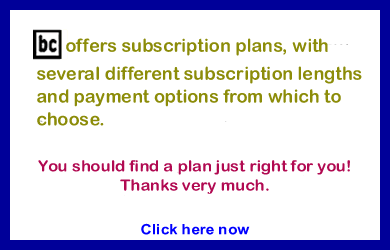 The combination of media glamorization, poor or nonexistent morality, and Friedman/Reagan philosophy is potent, even irresistible. When unlimited money-hunger pervades the profit making world, as it does, it will, like Gresham's law positing that bad money drives out the good, soon drive out more decent principles in the nonprofit world too. As written here before, money hunger has now become symptomatic of college presidents. Now we also find, thanks to the news pages of the Wall Street Journal - its excellent news pages, not its positively evil editorial pages and op ed articles - that supposedly nonprofit hospitals - i.e., supposedly charitable hospitals - and their CEOs are marked by money hunger too. They too have signed on to the big money machine.
In a lengthy article on Friday, April 4th, the Journal discussed the fantastic sums now possessed by supposedly nonprofit, supposedly charitable hospitals - one has "a treasure chest of $7.4 billion, more than many large, publicly traded companies - and the large amounts of revenue they take in each year. "No fewer than 25 nonprofit hospitals or hospital systems now earn more than $250 million a year," the Journal said.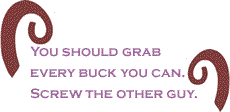 Their CEO's, of course, make a pile, far more than the greedy Gordon Gees who run universities. Northwestern Memorial Hospital in Chicago seems to be the Journal's poster boy for the article, and its CEO recently "received a $16.4 million payout." (Yes folks, that's 16.4 million in one year, as in approximately one-seventh of what Bill and Hillary have gotten so far in the seven plus years of the 2000s. But listen to how the 16.4 million was paid - it's a hoot. "The hospital says it paid him $5.45 million in salary, bonus and deferred compensation in its fiscal year ended August 31, 2006, and an additional $10.95 million when he retired the next day." (Emphasis added.) The next day? The very next day? This guy got $5.45 million one day and more than doubled it a day later? Wow. That's nice work if you can get it. If he could keep doubling up like that, on the 14th day he'd be paid more than Bill Gates is now worth, assuming Gates' net worth has dropped from 100 billion to only about 50 billion. If Gates' wealth hadn't dropped in half (the poor thing) it would take Northwestern's CEO a 15th day to catch him. Meanwhile, on the first 13 days, Northwestern's CEO, under the doubling every day principle, would have been paid a total that almost equals what Gates is worth. And they talk about the power of compounding? Man, I prefer the power of doubling, as did Northwestern's CEO.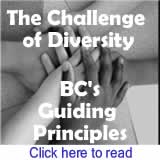 But there is more to the situation than what you've read so far. One of the reasons supposedly charitable, supposedly nonprofit hospitals are amassing huge sums and paying CEOs amounts of compensation like three, four or five million per year or even more, is that the hospitals receive tax exemptions because they are providing charitable care - free care or deeply discounted care - for those who can't pay. The problem, though, is that there're not providing very much charitable care.
Northwestern, the poster boy example, located in the wealthiest area of Chicago, the so-called Gold Coast neighborhood next to Lake Michigan, is said by the Journal to be exempt from about 50 million in property and sales taxes - not to mention that (like nonprofit universities) it is exempt from taxes on the gains on its cash and investments of $1.82 billion. (One supposedly nonprofit religious hospital, Ascension Health, reported cash and investments of $7.4 billion in 2007). But the percentage of charitable care Northwestern provides - are you ready for this - is "less than 2% of its revenues." The less than two percent of revenues Northwestern spends on charitable care (or approximately $21 million spent on it) is but "a fraction of what it received in tax breaks."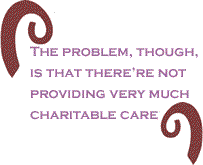 The huge tax breaks received by wealthy, supposedly charitable hospitals are raising eyebrows in Congress and elsewhere because of the dearth of true charitable care. The vast sums these institutions take in are going elsewhere than to such care. As is typical of tax free nonprofits of many types, they put their money into fabulous buildings - a new Northwestern building sounds far more like a high class, very expensive hotel with doctors than a hospital – and, as always, large salaries for administrators. Then, to meet the requirement that they provide "community benefits," "whose most important component is charitable care," they put down items that you sometimes cannot believe. A horrid example of this is BJC Healthcare, which is headquartered in St. Louis and runs 14 hospitals in Missouri and Illinois. It claimed $1.8 billion in community benefits to various towns in 2004, but over one-half of that, or $937 million of it, was compensation paid its employees, including $1.8 million to its CEO, while only 35 million was charitable care. BJC said that producing jobs (and paying salaries, i.e. the compensation of its employees) has a beneficial impact on communities, so it is proper to call the salaries a community benefit.
Now it is true that there can be situations in which it is proper to call compensation to employees a benefit to the community, e.g., one would think that when a doctor treats an impecunious patient for free, the aliquot portion of the doctor's salary could properly be thought a community benefit - and would be covered by the amount of "charitable care," so that BJC would seem to be double counting as well as engaging in evil accounting-slight-of-hand. But not every nickel of every salary can be a "community benefit" as the phrase is meant in the law or else all salaries everywhere, paid by any institution or person, could be a "community benefit" if the institution chose to call itself a nonprofit. This would self evidently be preposterous.

But it would have amazing ramifications. Think on it. If every nickel of every salary is a community benefit, then BJC was short changing the communities where it has facilities by paying its CEO "only" $1.8 million. It should have paid him $1.8 billion, not 1.8 million, so that the communities would have gotten about 3.6 billion in benefits, not $937 million. In fact, it should have paid its staff not a paltry $937 million in compensation but $10 billion in compensation, so that it would have provided the communities with about $14 billion, not 1.8 billion, in benefits.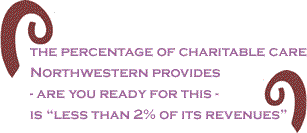 But let us take this beyond hospitals. If compensation is always and everywhere a community benefit, then Bill Clinton is seriously harming schools, groups, etc. by charging only $250,000 per speech. If he were to charge them one million dollars per speech, he would multiply their benefits four times. Ten million would be even better – they would receive 40 times the benefit. Why not 100 million? - that would be better still because it would be a multiplier of 400.
Perhaps we should not be surprised that the Journal says BJC "won't count its payroll as a community benefit in the future because of new" IRS standards that "won't require the hospitals to provide any minimum amount of charity care." On the other hand - won't require any minimum amount of charity care? What is that all about? These are at least supposed to be charity hospitals, after all. Can these hospitals nonetheless provide no charity care since there will be no minimum amount required? (According to the Journal, there are charitable hospitals that are truly charitable. They treat the uninsured. Sometimes they pay millions in taxes of one kind or another. They are struggling financially. And, discussing two of them in the Chicago area,
  the Journal says their CEOs make just a bit more than $200,000 per year.)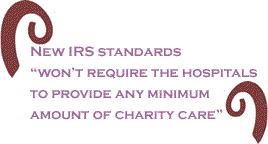 The fat cat "charitable" hospitals, the ones with huge piles of cash, the ones who pay fortunes to their executives, have gotten to be fat cats by using certain strategies. Now that antitrust enforcement has been in the garbage can for 28 years, they have merged like crazy and thereby gotten power over prices. They charge list prices that are several times cost. They focus on expensive procedures. They engage in a form of arbitrage (which I always thought was illegal): they issue tax exempt bonds and use the bond proceeds to buy securities that pay more than the hospitals are paying in interest on the tax exempt bonds. They sell patients' debts to tax collection companies - who are great fun to deal with, right? They sue the poor, who can't pay, for their last nickel or the equivalent. And - just so you don't forget - who gets all the money? Well, lots of it goes to the administrators, just like in for-profit health insurance companies and just as with university presidents. As the president of a true nonprofit hospital, and therefore a struggling nonprofit hospital, said to the Journal, "Nonprofit is a misnomer - it's nontaxable . . . . When you're making hundreds of millions of dollars a year, how can you call yourself a not-for-profit?"

* * * * *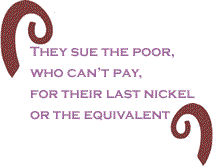 Last Saturday a great historian, Joseph Ellis, was at our law school for a four hour discussion of his terrific new book, American Creation. The subjects that came up included the extent to which the founders were simply head and shoulders above the politicians, and the body politic, of our own day, and whether, if there were a true national conversation on the subject (and a plebiscite, I guess), Americans would choose to continue or to drop the imperialistic foreign policy we have so long and so disastrously indulged. I think Joe Ellis may be more sanguine about some of these matters, and about America, than I am. When I read pieces like the Journal's long article about the so-called nonprofit, charitable hospitals, or about the greed and misconduct that are everyday matters, or about the warmongering that is a common style of our national politics, or about the ever renewing history of the wealthy screwing over the poor, or when I hear or see the constant imbecility that passes for political discussion among the pols, in the mainstream media and on lots of blogs, it is very depressing. One wonders - despairingly, to tell the truth - whether we will ever have a decent society run on the private and public sides by honest, competent, fair minded people. One wonders whether many of us who think, write and hope about these things are nothing but naifs, hopeless idealists, wasters of time and energy who foolishly can't stop themselves from hoping for what is impossible in this country in this time - or ever?
The foregoing paragraph cries out for a stirring, hope inducing peroration, does it not? I have none to offer.
BlackCommentator.com columnist Lawrence R. Velvel, JD, is the Dean of Massachusetts School of Law. Click here to contact Dean Velvel, or you may, post your comment on his website, VelvelOnNationalAffairs.com.