A miracle just took place in Pittsburgh, Pennsylvania. Hillary Clinton, who served for many years on the board of Wal-Mart, a multi-national corporation notorious for its anti-labor practices, just denounced the outsourcing of American jobs abroad.
According to the Associated Press, April 2:
It's not often that a centrist Democrat, who promoted globalization, free trade, NAFTA, GATT, and deregulation of the finance industry, uses language that sounds like Jesse Jackson ("We must end the export of jobs to slave labor markets abroad") in the '80s.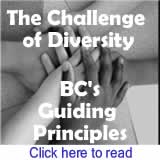 "Insourcing" is a new kind of song for Hillary Clinton. Not long ago, in 2005, Senator Clinton promoted outsourcing of U.S. jobs. In a much-publicized address to wealthy business leaders in New Delhi, India, she said: "There is no way you can legislate against reality. Outsourcing will continue...We are not against all outsourcing, we are not in favor of putting up fences." (see The Washington Post, Sept. 8, 2007).
Asia Times commented March 1st, 2005:
The India Review, a publication of the embassy of India, commented, April 1, 2005: "Senator Clinton allayed apprehension in India that there would be a ban on outsourcing."
If a video clip of Clinton's outsourcing remarks in India were played on TV before the upcoming primaries in Indiana, North Carolina, and Pennsylvania, she could lose the elections, despite current polls. Not only because blue-collar workers oppose outsourcing, but because Clinton appears to play both sides of an issue, depending on her audience.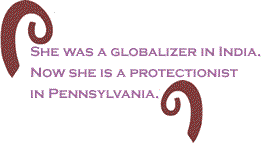 The Clintons have a long history of posing as labor populists during elections, only to become free trade deregulators after taking power. Bill Clinton, with Hillary at his side, made huge campaign promises to labor in 1992, and labor leaders spent millions of dollars to put the Clintons in the White House. Within months of their electoral victory, the Clintons rammed Republican-initiated free-trade bills - NAFTA and GATT - through a Democratic Congress. Outsourcing of jobs to sweatshops in Mexico and Indonesia actually accelerated under the Clinton globalization agenda. The Clintons increased subsidies for corporate mergers and relaxed regulations that protect the public from abuse of corporate power.
Hillary's globalization speech in India would hardly be noteworthy today, except that, in her current campaign for the nomination, she is saying exactly the opposite of what she said in India She was a globalizer in India. Now she is a protectionist in Pennsylvania.

The media are doing very little to inform voters about Clinton's globalization agenda. Will Hillary Clinton's anti-labor record catch up with her before Pennsylvania voters go to the polls in late April?
Not unless another miracle happens - the big media awaken from their slumber and set the record straight.
BlackCommentator.com Guest Commentator, Paul Rockwell, is a writer living in the Bay Area. He is also a columnist for In Motion Magazine. Click here to reach Mr. Rockwell.