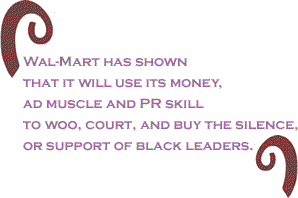 The following article first appeared on The Hutchinson Report.
During this year's celebration of the Martin Luther King, Jr. national holiday, Wal-Mart saturated black-themed TV shows on cable and network stations with a torrent of ads. In the ads smiling, cheerful black shoppers praised Wal-Mart for selling top quality goods at bargain basement prices, and for being a leader in revitalizing shamefully underserved, black communities. Wal-Mart also sent promotional mailers out to thousands of homes touting itself as a corporate urban savior. It has bankrolled a popular black TV talk show, and hired a troop of black "community outreach consultants."
Wal-Mart critics call this a cynical, and transparent effort to paint itself as a corporate good guy to blacks in the months before the landmark April 6 special election in Inglewood, California. Though blacks and Latinos make up the majority of Inglewood residents, blacks make up the majority of the city's voters. The ballot initiative would virtually waive environmental and land use restrictions for Wal-Mart to enable it to put up its first super-center in a major urban area.
But Wal-Mart's PR blitz is not aimed solely at getting local blacks to vote in favor of the initiative. The PR blitz is part of a well-greased, on-going national PR and ad campaign by Wal-Mart to make dependable allies of black consumers and leaders. It needs them now more than ever. In the past year, Wal-Mart has been relentlessly hammered for its union busting tactics, and stung by adverse court rulings for unfair labor practices, and environmental pillaging. Countless newspaper editorials have accused it of torpedoing local businesses. Local officials have passed ordinances blocking the construction of super-center stores, or forcing it to scale back its operations.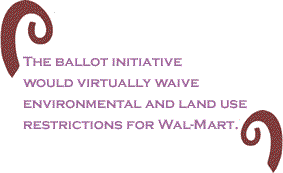 Yet, the NAACP and black organizations and leaders have maintained a deafening silence, or have leapt to Wal-Mart's defense. They echo the company's stock line that it is the corporate white knight for impoverished black communities. Wal-Mart has spent lavishly to buy their goodwill.
In press releases, Wal-Mart boasts that it is not only the biggest private employer in America; it is also the largest private employer of African-Americans. It employs nearly 150,000 blacks. Wal-Mart has ladled out millions for scholarships to teacher groups, the United Negro College Fund, the Thurgood Marshall Scholarship Fund, and the 100 Black Men. A top official at the Fund publicly praised Wal-Mart for its contribution to black education. In 2002, it received the Ron Brown Presidential Award, named after President Clinton's Secretary of Commerce, for its community corporate leadership. Wal-Mart boasts that it has raised and contributed $200 million to local community groups.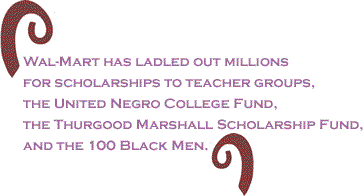 In 2000, Wal-Mart began heavily courting the NAACP. It doled out $300,000 to the NAACP. Much of that money went for a youth business-training program, and thousands of dollars more to local NAACP chapters. The NAACP rewarded Wal-Mart with its Pacesetter award for its support of the NAACP's activities. In 2003, Wal-Mart shelled out $150,000 to the NAACP at its annual conference in Miami Beach. In an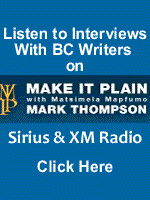 unwitting but revealing glimpse at how Wal-Mart buys goodwill, a corporate spokesperson noted that the donation was a rare contribution to a single group from a company that prefers to give money in the towns and cities where its stores are located. In an equally revealing statement, an NAACP official called Wal-Mart a friend and a corporation that shares its vision. The Wal-Mart largesse paid prompt dividends. In its industry report card on retailers, the NAACP flunked the top retailers for their lack of minority hiring and community investment. Wal-Mart didn't flunk. It got the NAACP's top grade.
Wal-Mart has also laid claim to Black History Month. In 2002, it pumped out a splashy keepsake book that featured a mix of recipes, pictures, and biographies of top African leaders. The books were handed out as freebies at Wal-Mart's 2,700 stores. This year, Wal-Mart distributed a family tree poster, a make your own history resource guide, and a collection of inspiring stories from well-known blacks. Wal-Mart offered links to research and genealogy sites on its official website to enable blacks to trace and build their family tree.

In its black ad saturation campaign, Wal-Mart exploited the gaping, and shameful corporate void in advertising to black consumers. Through racial fears and minority market ignorance, many corporate advertisers continue to grossly neglect them. In a survey in September 2003, American Demographics found that advertisers still spend only a paltry amount on minority advertising. The minority ad spending blind spot is especially glaring with black women. Single women who make the bulk of buying decisions in African-American communities head nearly half of black households.
Wal-Mart's ads are designed to appeal to black female buyers.
Whether Wal-Mart wins the April 6 election or not, it has shown that it will use its money, ad muscle and PR skill to woo, court, and buy the silence, or support of black leaders and sell the message that it is the best corporate friend that blacks have. It's money well spent.
Earl Ofari Hutchinson is an author and political analyst. Visit his news and opinion website: www.thehutchinsonreport.com He is the author of The Crisis in Black and Black (Middle Passage Press).