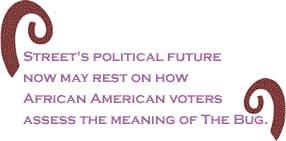 The following article is reprinted from the Sunday, October 19 edition of the Philadelphia Inquirer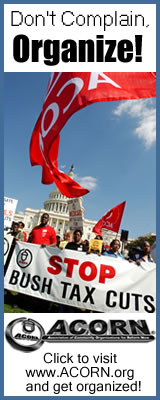 Everybody knew that race would be a significant issue in the campaign for mayor of Philadelphia, with a white Republican taking on a black Democratic incumbent.
Now, it has effectively become the only issue.
The discovery of an FBI bug in Mayor Street's office Oct. 7 and a federal investigation into possible municipal corruption has completely changed the dynamic of the campaign and, in the process, deepened long-existing fissures between black and white Philadelphians.
With the election only two weeks away and the FBI not giving details about the investigation, the campaigns are trying to fill in the blanks for voters - in a city with the nation's highest level of racially polarized voting.
Street and his Democratic surrogates have portrayed the investigation as a racist attack against a powerful African American leader. The mayor has been recast as a martyr.

Katz says that claim is a cynical attempt to divert attention from corruption and greed.
That the probe is a product of racial animus has become almost a given in the black community. And new polls show that the perception is taking hold, that Street has solidified support in his African American electoral base.
When the FBI raided three city agencies and the offices of Street's top fund-raiser late Thursday, Street said that the U.S. government had "hijacked the election."
His top political aide, George Burrell, went further.
"People don't want to hear the fact that everyone who's being complained about in the investigation, in the media crusade, are people of color," said Burrell, who is African American. "I don't talk about race very often; I just say it's curious." Street adviser A. Bruce Crawley, noting that the FBI also carted records from the city's Minority Business Enterprise Council, called the probe "racial profiling."
Concerned that his opponent's interpretation was going unchallenged, Katz accused the mayor of "racial politicking" in a Friday afternoon rally with black supporters.
Street, Katz said, was unconcerned about lasting damage to race relations in the city. "In order to survive, he's decided to divide," Katz said. "This [investigation] is not about black or white, it's about green - the color of corruption, greed and fear."
A Temple University/CBS3/KYW-3 poll released last week found that, in part, the initial fallout from the FBI investigation helped Street. His support among African American voters increased 14 percentage points, for instance, and one in four black voters said that the probe made them "more likely" to vote for Street.
Overall, Street led 48 percent to 41 percent, a reversal of the same poll's findings last month.

Democratic ward leaders in African American neighborhoods say that people are talking, are more interested in the election, and are more firm in their support of Street.
"There's a combination of anger and confusion," said State Rep. Rosita Youngblood, Democratic leader of the 14th Ward, which includes parts of Germantown, Tioga and Nicetown.
"I'm finding that people who may have been on the fence are now more determined to support him," said Youngblood, who is black.
The probe has been a "godsend," said Councilwoman Jannie Blackwell, the Democratic leader of the 46th Ward in West Philadelphia.
Both campaigns know turnout is the key. From the beginning, Street strategists knew that in order to win, he needed to find a way to spark passion among black voters, and in her view, the bugging has done that.
"In a convoluted kind of way it ended up energizing this campaign and this race like I don't think anything else could have," said Blackwell, who is African American. "People feel that they are now victims of Big Brother, or somebody watching you, or McCarthyism: 'What's going on here?' "
Racial divisions have long been a part of Philadelphia's political topography. And they are thrown into sharper relief whenever a black candidate is running against a white one - such as in 1987, when Mayor Wilson Goode ran against Republican Frank Rizzo. And in 1999, when Katz and Street met for the first time.
That year, Katz carried 97 percent of the 742 voting divisions with a majority white population, and Street prevailed in 98 percent of the 750 city voting divisions with a black majority.
"The level of racially polarized voting is nowhere as high as it is in Philadelphia," said David Bositis, a scholar with the Joint Center for Political and Economic Studies, an urban affairs think tank in Washington.

Other cities with smaller black electorates - Houston and Denver, for instance - have elected black mayors with substantial white support in recent years, Bositis said. The difference in Philadelphia, he said: White and black residents are about the same proportion of the overall city population, and the city has a relatively small Latino population to act as a political buffer.
"This crops up when the black and white populations are of comparable size and there is competition for power," Bositis said. "Philadelphia has just not had workable black-and-white coalitions at the grassroots level."
City Finance Director Janice Davis, who has lived and worked in New Orleans and Houston, said Philadelphia is far more racially divided than those two cities.
"It was a deep shock coming from the deep South," said Davis, who is black. "In the South, we dealt with it. It was ugly for a while, and we got over it... . In Philadelphia, we haven't dealt with it."
Racial undertones often influence city politics, longtime players and analysts say. The stage this time may have been set when Street told the NAACP last year that "the brothers and sisters are running the city," which angered many white voters, who still talk about it.
"You don't have to inject race into a Philadelphia campaign - it's in the bloodstream," said Democratic analyst Larry Ceisler, a deputy campaign manager for Goode 16 years ago.
What is unusual this time is how open it is, he said.
At first, race arose in subtle ways, raised by inference and by surrogates for the candidates.
The Republican City Committee mailed a glossy brochure to white areas in September urging voters to help Sam Katz "Take Back Philly." Then John Dougherty, a white trade-union leader, said that if Street "wasn't a black man, this wouldn't be a close election." Katz countered earlier this month with a TV ad that featuring a black woman from Germantown who said, "The brother I'm voting for is Sam Katz."
Even before the bugging, there was plenty of evidence that race would be a decisive factor this year.
Not only did an Oct. 1 Keystone Poll find black and white voters polarized in their choice for mayor, but the two racial groups had radically different views of the city itself.
About 70 percent of black residents thought Philadelphia was heading in the right direction, while 61 percent of white residents thought things were on the "wrong track." Just under 40 percent of white residents thought the city had improved since 1999, but 61 percent of black residents rated it a better place to live.
"It's as if they are living in separate cities," said Berwood Yost, director of the Floyd Institute Center for Public Opinion Research at Franklin and Marshall College.
Street adviser Crawley, a founder of the African American Chamber of Commerce, said that racial polarization is to be expected.
"What you see in the polls is just the history of politics in Philadelphia and across the country," Crawley said last week on WHYY-FM. "People vote for their own. It didn't start with blacks... . This is just racial pride, ethnic pride at work."
At the same time, Crawley, who is black, said that African Americans know the government is capable of doing harm to their leaders, citing J. Edgar Hoover's bugging of Dr. Martin Luther King Jr. and a 20-year FBI probe of former Detroit mayor Coleman Young that resulted in no charges.
But Carl Singley, an African American adviser to Katz, said that the Street campaign was employing a "scorched-earth policy on race" to win. "I'm concerned that it will create the kind of resentment we don't need in this city," Singley said in an interview. "It's dirty pool, and it has to stop if Philadelphia is ever going to move past the issue of race."
In South Philadelphia yesterday, some prospective voters agreed.
"Race has nothing to do with it," said 54-year-old Anthony Mancini, who is white.
"I'm voting for Katz because he's the lesser of two evils," said Mancini, taking a break from laying bricks at 17th and Geary Streets in Packer Park. "The rest of this is just... chaos."
Katz supporter Joe Mestichelli, 63, opined that the investigation would most likely benefit Street.
"I don't think the bug really matters," said Mestichelli, who is white. "Katz is involved with something, too. It doesn't matter, whoever gets in there is still going to play the game. I just hope they do a decent job."
The discovery of the bug is also papering over differences among political factions in the African American community.
For example, former U.S. Rep. William Gray 3d, a Street nemesis who pushed candidates against Street when he was a councilman, went to the pulpit of his church last Sunday to score the FBI for leaving "a cloud over this man's head."
Said J. Whyatt Mondesire, leader of the local NAACP and an occasional Street critic: "The bug is the Crazy Glue that has put the factions on the same page."
Street's political future now may rest on how African American voters assess the meaning of The Bug and, more specifically, how many turn out to vote for him Nov. 4.
Tanya Garrison, of West Philadelphia, said she was suspicious of the timing. "I don't trust the Republicans," said Garrison, who is black. "They stole the 2000 presidential election in Florida, and they'll do anything."
Ayesha Harris, 23, a business-school student, said she liked what has happened under Street in her neighborhood at 28th and Allegheny: There are more police, and her 9-year-old son can play safely.
But her identification with the mayor runs deeper, going beyond wounded feelings about the investigation.
"He makes me proud to be a young black American," Harris said. "John Street raised us up."
Contact staff writer Thomas Fitzgerald at 215-854-2718 or [email protected]. Inquirer staff writers Nathan Gorenstein, Michael Currie Schaffer, Anthony S. Twyman and Sam Wood contributed to this article.