I was going to let Black History Month pass without contributing an article this year because nothing particularly interesting sparked me to write. Then a couple things happened.
First, the associate pastor of my predominantly white church read Toure's book, Who's Afraid of Post-Blackness?. The book motivated her - a white woman - to invite me to talk to the congregation about what it means to be Black in 2012. Later that week, during an unrelated call with an LGBT Liaison for the City of Los Angeles Police Department, I had a brief discussion on the benefits of having LGBT Heritage Month here in L.A.
These talks sparked my desire to write, once again, about Black History Month - an observance I experience with mixed feelings.
On the one hand, I enjoy all the PBS specials and other documentaries that get aired in February. But on the other hand, I've always had this gnawing sense that with the exception of official national holidays, the only time our nation honors a group of people with a special day or month is if that group has been historically exploited and somehow needs to be appeased.
I'm sure I'll get some feedback on this but Secretaries' Day comes to mind. I've always felt that Hallmark, FTD, and local eateries are the biggest beneficiaries of that day. Every secretary I've ever known has preferred to be acknowledged for their contributions and to receive financial compensation commensurate with the duties and responsibilities of their jobs. Instead, in addition to continuing to be underpaid and overworked, they now get an annual bouquet of flowers, a free lunch, and a card.

My goal in writing this piece is not to minimize the importance of Black History Month by likening it to Secretaries' Day but, in my opinion, it gets similar treatment, which is that the honor does little to improve the conditions that served as the impetus to create it in the first place. Furthermore, it can serve to prolong the conditions by appearing to be a remedy, especially to those outside the group.
Black History Month - described by Wikipedia as "an annual observance for remembrance of important people and events in the history of the African Diaspora" - was established in 1926 by the son of a slave, Carter G. Woodson, who wanted to educate all people about the contributions black men and women have made throughout history. What began as a week of remembrance grew to a month and for good reason. It was sorely needed. Back in 1926, Blacks had virtually no presence in the public sphere of American life in spite of the enormously disproportion share of sacrifice made by Blacks to build this country. Since its inception, February has come to be identified as the time to applaud achievements of Blacks. While these are noble endeavors, was this all that Carter G. Woodson intended?
Did Woodson envision a time set aside by the dominant culture that simply gratifies Blacks' need to be acknowledged, while at the same time maintains the Euro-centric American History tradition taught in the vast majority of our nation's public and private schools where African-Americans are rarely mentioned anywhere but the chapters that cover slavery, Brown v. Board of Education, and desegregation?
Although Woodson wanted all Americans to be educated about the tremendous contributions made by African-Americans across all aspects of our history, would he have been satisfied to know that the month is generally recognized exclusively by African-Americans and that it's doubtful the rest of the country thinks twice about it except maybe to ask, "Why do they get a month?"
When this time of the year rolls around, besides the PBS specials, there are a smattering of obligatory programs at educational institutions and even at workplaces such as NASA's Jet Propulsion Laboratory (JPL), where I worked for more than 20 years. Each year, during Black History Month, JPL puts on a big program with guest speakers and entertainment for its 5,000-plus employees. And every year, the elephant in the room is the lack of attendance by anyone but the Black employees and a few senior managers who are obliged by their positions to attend.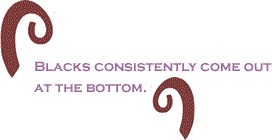 In fact, one thing that is made undeniably clear during this program is the racial divide that exists between the rank and file and management at NASA's Jet Propulsion Laboratory. The front row of the auditorium where the program is presented is reserved for the leadership, which is almost entirely white. The rest of the seats, the ones for the rank and file, are filled with the Lab's relatively few Black employees.
The founder of Black History Month, Carter G. Woodson, passed away just a few years before the Brown v. Board of Education decision was handed down by the Supreme Court - a decision he undoubtedly would have favored. Perhaps Woodson's work impacted the 1954 decision of the court. But how would Woodson assess the status of Blacks in America today where in all major indexes used gauge social and economic wellness, Blacks consistently come out at the bottom. Unemployment, incarceration, healthcare, education, foreclosure rates, infancy mortality, success in business or even the entertainment industry - we're always at the bottom.
Recently, Freakonomics - an online site that uncovers the hidden side of lots of things - reported on a research project conducted by a pair of economists seeking to determine if race impacts the sale of products online. The economists placed hundreds of ads selling iPods in local online markets. The picture in each ad simply showed someone's hand holding an iPod. The model's body was not shown. The researchers randomly altered whether the hand holding the iPod was black, white, or white with a big tattoo. Here is what they found: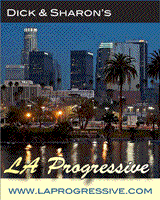 "Black sellers do worse than white sellers on a variety of market outcome measures: they receive 13% fewer responses and 17% fewer offers. These effects are strongest in the Northeast, and are similar in magnitude to those associated with the display of a wrist tattoo. Conditional on receiving at least one offer, black sellers also receive 2-4% lower offers, despite the self selected - and presumably less biased - pool of buyers. In addition, buyers corresponding with black sellers exhibit lower trust: they are 17% less likely to include their name in e-mails, 44% less likely to accept delivery by mail, and 56% more likely to express concern about making a long-distance payment. We find evidence that black sellers suffer particularly poor outcomes in thin markets; it appears that discrimination may not "survive" in the presence of significant competition among buyers. Furthermore, black sellers do worst in the most racially isolated markets and markets with high property crime rates, suggesting a role for statistical discrimination in explaining the disparity."
This year, Red Tails, a major motion picture about the Tuskegee Airman, was released around Black History Month. In making the film, legendary executive producer George Lucas confronted so much adversity that he eventually had to spend his own money to get the movie made. Speaking frankly about the opposition he confronted, Lucas told Jon Stewart, Oprah Winfrey and others, that he spent $58 million of his own money to fund the project after being denied financial support by major movie studios due to the film's all-black cast. "There's no major white roles in it at all...I showed it to all of them and they said 'No", said Lucas.
In the 86 years since Carter G. Woodson founded what has come to be known as Black History Month, there have been some gains but not as many one would expect if one were to believe the rhetoric espoused by those who claim we live in a post-racial era.
For those who would ask, "Why do they get a month?", I'd respond that I don't know that having a month is serving us well. Of course, I'll never know but I just wonder, if we'd fully integrate American History textbooks so that learning about the contributions of all people would be required in all schools, would we be closer to achieving Woodson's objective? Are we perpetuating racism by separately focusing on Black History month?

The injustice of racism wasn't created by the people who currently live in America and it isn't just a Black problem or a Latino problem or a people of color problem. It is an American problem that has negative implications for all Americans. It is part of the legacy we all inherited when we came into this society.
In his book Privilege, Power, and Difference
, author and professor Allan G. Johnson asserts that we cannot solve the problem of racism or sexism or any of the other -isms unless people who have privilege - people of the dominant group - feel obligated to make the problem of privilege their problem and take steps to do something about it.
Speaking of racism, Johnson, who is a white male, goes on to say, "It means I have to do something to create the possibility for my African American friend and me to have a conversation about race, gender and us, rather than leave it to her to take all the risks and do all the work. The fact that it's so easy for me and other people in dominant groups not to do this is the single most powerful barrier to change." Do we make it all the more easy by separating the celebration of Black icons such that places like my former place of employment, NASA's Jet Propulsion Laboratory, have events that only Blacks attend?
86 years ago, when Carter G. Woodson established Negro History Week, the precursor to Black History Month, he was living in the Jim Crow South. In 2012, we have the New Jim Crow of the prison-industrial complex, educational institutions that are more segregated than they were in 1954, and an internet where I'm having a heck of a time selling my iPod. Malcolm X once said, "Racism is like a Cadillac, they come out with a new model every year". Maybe it's time for us to come out with a new model for Black History Month.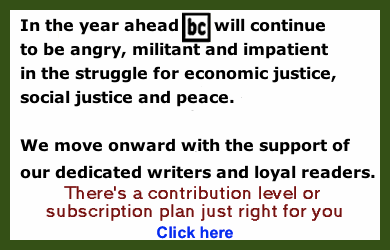 BlackCommentator.com Editorial Board Member and Columnist Sharon Kyle, JD, is the Co-Founder and Publisher of the LA Progressive an online social justice magazine. With her husband Dick, she publishes several other print and online newsletters on political and social justice issues. In addition to her work with the LA Progressive, Ms. Kyle holds a Juris Doctorate, is an adjunct professor at Peoples College of Law in Los Angeles, and sits on the board of the ACLU Pasadena/Foothills Chapter and the Progressive Caucus of the California Democratic Party. Click here to contact the LA Progressive and Ms. Kyle.