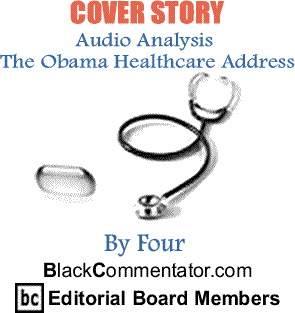 BlackCommentator.com is trying something new in this issue. Here is an analysis of President Obama's address to the joint session of congress about health care in audio form. I spoke with four members of the BC Editorial Board immediately after the speech ended.
We hope you enjoy listening and will participate in our new Talk Back to BC feature by clicking on the button at the bottom of this page.
In solidarity and Peace,
Peter Gamble
Publisher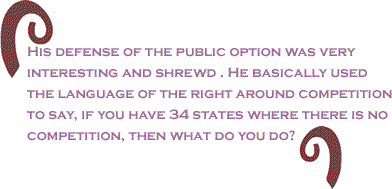 BlackCommentator.com
Executive Editor, Bill Fletcher, Jr., is a Senior Scholar with the Institute for Policy Studies, the immediate past president of TransAfrica Forum and co-author of
, Solidarity Divided: The Crisis in Organized Labor and a New Path toward Social Justice
(University of California Press), which examines the crisis of organized labor in the USA. Click here to contact Mr. Fletcher.
---


BlackCommentator.com
Editorial Board member, Ethel Long - Scott, is the Executive Director of the Women's Economic Agenda Project, (WEAP). For nearly 40 years, Ethel Long - Scott has been on a mission to increase social and economic justice in jobs as varied as non - profit executive director, grassroots community organizer and political campaign strategist. Often that has meant working with labor and community groups to create opportunities for constructive social change where none seemed to exist. Always that has meant community organizing at a grassroots level to help ordinary people amplify their voices by teaming up with each other.
She is known nationally and internationally for devoting her life to the education and leadership of people at the losing end of society, especially women of color. She is dedicated to economic security and justice and believes that the US is engaged in a relentless war against workers and the poor. Click here to contact Ms. Long - Scott.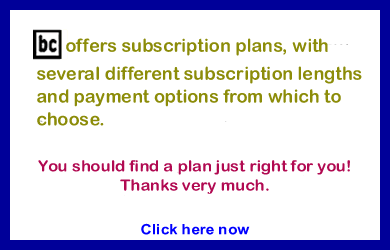 ---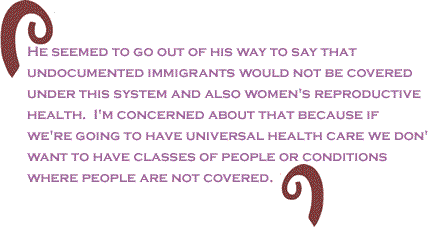 BlackCommentator.com
Editorial Board member David A. Love, JD is a lawyer and journalist based in Philadelphia, and a contributor to the
Progressive Media Project, McClatchy-Tribune News Service, In These Times and Philadelphia Independent Media Center. He contributed to the book, States of Confinement: Policing, Detention, and Prisons (St. Martin's Press, 2000). Love is a former Amnesty International UK spokesperson, organized the first national police brutality conference as a staff member with the Center for Constitutional Rights, and served as a law clerk to two Black federal judges. His blog is davidalove.com. Click here to contact Mr. Love.
---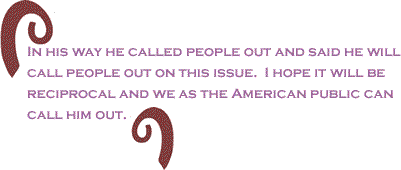 BlackCommentator.com
Editorial Board member, the Rev. Irene Monroe, is a religion columnist, theologian, and public speaker. A native of Brooklyn, Rev. Monroe is a graduate from Wellesley College and Union Theological Seminary at Columbia University, and served as a pastor at an African-American church before coming to Harvard Divinity School for her doctorate as a Ford Fellow. Reverend Monroe is the author of
Let Your Light Shine Like a Rainbow Always: Meditations on Bible Prayers for Not-So-Everyday Moments. As an African American feminist theologian, she speaks for a sector of society that is frequently invisible. Her website is irenemonroe.com. Click here to contact the Rev. Monroe.
Click here to read any of the articles in the special BC series on Single-Payer Healthcare.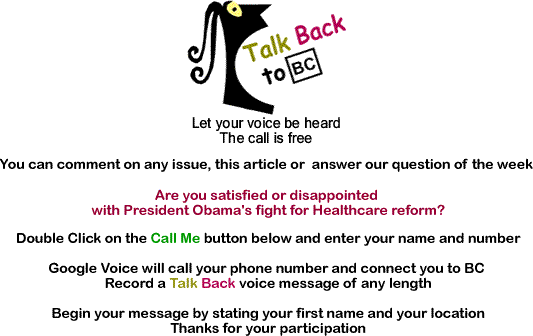 ---
Petition for the Public Option
It's not too late to push for "change we can believe in"
Click here to sign the petition



Any BlackCommentator.com article may be re-printed so long as it is re-printed in its entirety and full credit given to the author and www.BlackCommentator.com. If the re-print is on the Internet we additionally request a link back to the original piece on our Website.
Your comments are always welcome.
If you send us an eMail message we may publish all or part of it, unless you tell us it is not for publication. You may also request that we withhold your name.
Thank you very much for your readership.


September10 , 2009
Issue 341

is published every Thursday
Executive Editor:
Bill Fletcher, Jr.
Managing Editor:
Nancy Littlefield
Publisher:
Peter Gamble
Est. April 5, 2002