Custom Search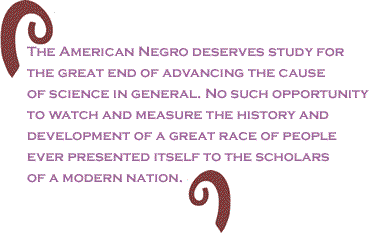 The American Negro deserves study for the great end of advancing the cause of science in general. No such opportunity to watch and measure the history and development of a great race of people ever presented itself to the scholars of a modern nation.  If they miss this opportunity—if they do the work in a slipshod, unsystematic manner—if they dally with the truth to humor the whims of the day, they do far more than hurt the good name of the American people; they hurt the cause of scientific truth the world over. . ." (emphasis mine) [1]
"The United States was the land of captivity, of slavery rather than liberty, and the discovery of the New World represented not the founding of a shining city on a hill but the start of the crime against Africans." [9]   --Manisha Sinha
There was a day when the world rightly called Americans honest even if crude; earning their living by hard work; telling the truth no matter whom it hurt; and going to war in what they believed a just cause after nothing else seemed possible.  Today we are lying, stealing and killing.  We call all this by finer names: Advertising, Free Enterprise, and National Defense.  But names in the end deceive no one; today we use science to help us deceive our fellows; we take wealth that we never earned and we are devoting all our energies to kill, maim and drive insane men, women, and children who dare refuse to do what we want done.  No nation threatens us.  We threaten the world. [11] (emphasis mine.)
Had it not been for the race problem early thrust upon me and enveloping me, I should have probably been an unquestioning worshipper at the shrine of the established social

order and of the economic development into which I was born. But just that part of this order which seemed to most of my fellows nearest perfection, seemed to me most inequitable and wrong; and starting from that critique I, gradually, as the years went by, found other things to question in my environment. [12]   (emphasis mine)
The English founded their first permanent settlement in the Americas at Jamestown, Virginia, in 1607.  But it was not a colony at all. . . Rather it was a business enterprise, the property of the Virginia Company of London, made up of stockholders and a governing board of directors who answered directly to James 1." [16] (emphasis mine)
"In the months preceding the arrival [of the Africans], the colony had installed the new House of Burgesses [i.e., House of Citizens], formalized a new system of white servitude, shipped its first load of tobacco to England, inaugurated a new system of private property, and welcomed a shipload of brides, who were promptly purchased at the going rate of 120 pounds of tobacco each.  Thus, white servitude, black servitude, private property, 'representative democracy,' and bride purchase were inaugurated in America at roughly the same time." [23] (emphasis mine)
Exporting white indentured servants became a big business... and closely resembled the African slave trade.  Drunkards were carried on shipboard.  Children were lured away with promises of candy and officials were bribed to turn over convicted criminals to the procurers. . . called 'spirits' because their victims were spirited away. . . [24]
"The colony had been initiated not by men seeking political or religious freedom but by profit-hungry investors in England and fortune-hunting adventurers and common riffraff from the back alleys and prisons." [26]   The truth about Jamestown's history, like the truth about American history itself, is gagged, shunted away in the closet to protect the myth of American perfection.  One re-engages with that history not simply to expose unflattering and suppressed truths but because so long as the myth of American perfection reigns, there will be no momentum for change in America.  And look at the world around us today.  Does it not suggest that change, more than likely, is the only hope that we have left?

"One is astonished in the study of history at the recurrence of the idea that evil must be forgotten, distorted, skimmed over."  -- W.E.B. Du Bois, 1935
---



Any BlackCommentator.com article may be re-printed so long as it is re-printed in its entirety and full credit given to the author and www.BlackCommentator.com. If the re-print is on the Internet we additionally request a link back to the original piece on our Website.
Your comments are always welcome.
If you send us an eMail message we may publish all or part of it, unless you tell us it is not for publication. You may also request that we withhold your name.
Thank you very much for your readership.


March 26 , 2009
Issue 317

is published every Thursday
Executive Editor:
Bill Fletcher, Jr.
Managing Editor:
Nancy Littlefield
Publisher:
Peter Gamble
Est. April 5, 2002
Printer Friendly Version in resizeable
plain text
format or
pdf
format.


Frequently Asked Questions