At 7:30 a.m., only a few hours after the New York Times hit the streets August 6th, with a front page story on the difficulties holders of subprime mortgages were having, mortgage broker Jack Kunkel was in front of his computer, clearly upset. The article had been accompanied by a photo of Nicole Brownlee, an African American woman who was fighting foreclosure on her home. "Now that the mortgage market has gone sour, the media is flooding readers with pitiful stories of borrowers, invariably elderly Black females, who were suckered into taking out a mortgage loan," Kunkel wrote to the Times, going on to conclude, "The woman in this article made her bed and now she needs to sleep in it. She can't get out of it by playing the hapless-elderly-Black-woman role, suckered by a slick-talking mortgage broker." That ran under the title "Mortgage Woes" in that day's Readers' Comment section of the paper's online edition.
Ms. Brownlee actually wasn't the person featured in the very informative article by Gretchen Morgenson. That would be Dianne Brimmage (no picture) of Alton, Ill, a former forklift driver at the recently closed Owens-Brockway Glass Container plant in nearby Godfrey.  "A borrower in good standing since 1998, she said a local broker persuaded her to combine her debts in a fixed-rate loan of $65,000 in 2003," Morgenson reported. "But at the closing, she was presented with an adjustable-rate mortgage from the Argent Mortgage Company, carrying a low teaser rate for two years. When she objected, the broker assured her that rates would fall and she could get a better fixed-rate loan later. She said she believed him." Ms. Brimmage's ethnic background was not mentioned.
It is true that African Americans and seniors make up a disproportionate share of those affected by the current mortgage crisis. It is also true of Latinos and Asians of all ages. And the foreclosures and evictions currently underway – expected to accelerate over the rest of the year – will leave a trail of social destruction across those communities. But the weight of the tragedy will fall on a lot of people who are neither female, minority nor elderly. It is wrecking havoc with working class individuals and families.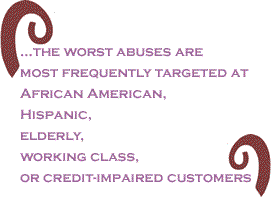 Kunkel's crude negative injection of race into the picture is only illustrative of a pattern of responses to the subprime mortgage mess that seeks to absolve the financial sector of responsiblity and place it on the shoulders of its victims. The economic uncertainty and dislocation facing millions, as the credit bubble bursts, is not restricted to the housing sector. Here are two other elements to take into consideration:
Healthcare Debt
Keep in mind that many of the subprime loans taken out by working people over recent years were to cover the cost of rising healthcare expenses. Also, the failure of some people to meet their escalating adjustable mortgage rates, in many cases, has been the result of unexpected medical expenses. Now unpaid patient bills have become a major problem confronting the country's healthcare system. "In recent years employers have increasingly turned toward healthcare plans where the patient pays part of their care costs out of their own pocket, reported the Financial Times August 6th. "The plans were intended to stem rising costs to insurers and employers by making consumers aware of how much their healthcare was costing, but one result has been an increase in bad debts."

"US hospitals are seeing double the rate rise in uninsured patient visits versus insured," the paper reported. "But the fastest-growing segment of bad debt for hospitals is from people with health insurance."
Automobile Debt
How about subprime car loans?
"Subprime auto lending has grown rapidly, thanks in part to Citigroup, Capital One, Household, and other big-name financial institutions that have pushed their way into the market," Michael Hudson wrote recently in the magazine Southern Exposure. "The Federal Reserve estimates the market for subprime auto loans has more than quadrupled in just a decade, swelling to $65 billion a year. Some industry leaders believe the market is even bigger than the Fed reckons - $125 billion or more a year." Hudson went on to note that "an examination of lawsuits and academic studies from around the country provides evidence that the worst abuses are most frequently targeted at African American, Hispanic, elderly, working class, or credit-impaired customers. Many dealers and lenders perceive these consumers as having fewer options, less financial experience, and a diminished sense of marketplace entitlement, thus making them more likely to be desperate or susceptible when it comes time to close the deal. "
"And the deals that are being closed on many car lots are not pretty ones. Subprime borrowers often pay interest rates between 17 and 25 percent on auto loans, compared with single-digit rates for borrowers with good credit and strong bargaining skills," wrote Hudson. "This is no small matter; the difference between paying a competitive rate or a subprime one can mean $3,000, $4,000, or more in extra finance charges on a five-year, $10,000 used-car loan. These customers are also more likely to be targeted by dealers and lenders for an array of overpriced extras such as credit insurance, roadside assistance plans, extended warranties and service contracts."
"Not to be left out, the automobile financing industry – conspicuously ignoring the mistake of their mortgage lending peers – is targeting subprime borrowers as never before," freelance writer Matthew C. Keegan recently wrote on his blog. "However, these lenders now have a handy tool in their arsenal to force borrowers to pay: many vehicles are equipped with an under-the-dashboard unit designed to disable the car if a loan payment is past due."  How scary is that?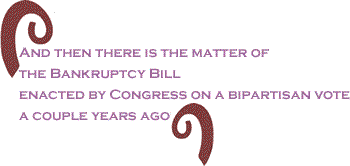 And then there is the matter of the Bankruptcy Bill enacted by Congress on a bipartisan vote a couple years ago. I once asked a prominent and respected economist whether there was a chance that it was pushed through by those in the finance sector who foresaw the current debt crisis. He didn't think so but I still have my doubts. "Rising mortgage delinquencies are likely to be followed by rising consumer bankruptcies and, with them, the first big test of the federal bankruptcy reform law of 2005," The New York Times said editorially July 14.  "Early indications are that low- to middle-income borrowers will be unduly punished.'
Tough times would seem to lie ahead.
BlackCommentator.com Editorial Board member Carl Bloice is a writer in San Francisco, a member of the National Coordinating Committee of the Committees of Correspondence for Democracy and Socialism and formerly worked for a healthcare union. Click here to contact Mr. Bloice.