The Southern California Black community sits on edge, as an emerging face off ensues for who will succeed the late Congresswoman, Juanita Millender McDonald, in California's 37th Congressional District. Governor Arnold Schwarzenegger has set a special election date of August 21st, 2007. Several candidates have emerged, the highly respected, highly funded Latino State Senator, Jenny Orpeza, the newly elected Assemblywoman, Laura Richardson and the late Congresswoman's daughter, Valerie McDonald. This election presents the African American community with more than just a "politics as usual" scenario.
For the last thirty years, this has been a "Black seat." Formerly a seat that exclusively covered Watts, Carson, Compton and Lynwood, it now covers the tip of Watts, a dab of Compton, a smidgen of Carson, and a whole lot of Long Beach. More than half the district's residents live in Long Beach. 41% of the district's voters are African American, 37% are white, and 22% are Latino. A recent poll was released, indicating that in a two-candidate race, the 37th Congressional District would still remain a Black seat. Richardson or McDonald would win over Orpeza. But in a three-candidate race among Democrats, Orpeza would win. This is problematic, to say the least. In a state that has long promoted the fallacy of shrinking Black political power, or more critically, a Latino "power flex" on Black elected officials, this Richardson-McDonald face-off is more than just about one seat. It is about what the Black community is prepared to do to keep an all important Congressional seat. We cannot allow egos and rhetoric to get in the way.

Many people are critiquing, even criticizing the process from which the front running candidates emerged. It really wasn't about being "handpicked" or even about ignoring potential "new ideas", as one of my follow commentators suggested. It was about quickly identifying a candidate who could beat an experienced, organized campaigner like Jenny Orpeza. This is not the time for novice experimentation. The Black community's candidate has to have capacity, not just money. The person has to have political experience, a base in the district and the ability quickly to mobilize an effective campaign.
For the first time, in a long time, I've seen the political "camps" put down their tents and move toward a consensus candidate. I've seen other experienced elected officials in Compton, Gardena and Carson defer to conventional wisdom. I've even seen political enemies come together on this one. The consensus has been around built Laura Richardson, whose tenure on the Long Beach City Council makes her a fit for the seat - not to mention her Assembly seat overlays 40% of the district (to Orpeza's 22% of the district). It's a common sense play. But we're not dealing with a common sense scenario. We have an aggrieved family and an aggrieved community (Carson), advancing a sense of entitlement that can't be ignored, nor should it be dismissed. Millender-McDonald was much loved. Many feel putting her daughter in the seat is a fitting tribute to her legacy. Whether it's the right thing to do, is a point to be debated — but not right now. Not with only two months in which to wage a campaign of this significance.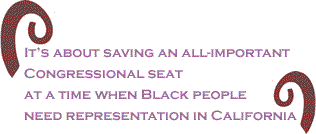 What significance? It's the 800-pound gorilla in the room called the ever-expanding Latino politic. Tied to a population growth that will make them a statistical majority in the state by 2010, the fear of encroachment on historically Black seats is becoming a reality. This is the biggest power flex since former L.A. City Councilman, Nick Pacheco, a few years ago, tried to clip downtown out of Councilwoman Jan Perry's district in a redistricting power play. Some think the Black and Latino communities are on a head-on collision course for political and economic control of shared geographies. It doesn't have to be that way, but the over-zealous and over-ambitious have a way of dictating this relationship. So now we wait to see just how Orpeza's stepping into this race plays out in the long term. Is this an isolated incidence, or the crack in the political dam that will cause a flood of non-Black candidates to come rushing through the Black community at a later date? All of this has to be considered.

Meanwhile, the question will be academic if the Black community doesn't resolve this stalemate. The Latino politic won't have to take the seat. The seat will be handed to them because of our divided politic. This is not about Richardson or McDonald. It's about saving an all-important Congressional seat at a time when Black people need representation in California. This is not just "politics as usual." There is much more at stake. Ironically, this is the same scenario the late Millender-McDonald exploited when she ran for State Assembly in 1992. She walked right up the middle while two more experienced white males (both elected members of the state assembly) each refused to defer to the other. This scenario is real, and it could play out again — this time with two Black candidates refusing to defer to the other. One of these candidates needs to realize this, stand down and support the other.
Quickly.
BC Columnist Dr. Anthony Asadullah Samad is a national columnist, managing director of the Urban Issues Forum and author of the upcoming book, Saving The Race: Empowerment Through Wisdom. His Website is AnthonySamad.com. Click here to contact Dr. Samad.