COLUMNIST'S NOTE: This commentary is by a plus-sized Black female journalist, regarding Eddie Murphy's newest film "Norbit."
Am I going to see "Norbit?"
Everyday I wake up and look in the mirror, there are several things I notice.
The first being that I'm Black, followed by the fact that I'm a woman. It's usually around this time that I realize that I don't have on my glasses and so after reaching for them and putting them on I'm hit with the awful truth that I'm fat, too.
So what does this have to do with anything?
There are very few positive images of Black women who wear any size above a 2, out in the media. America is obsessed with thin, and quite frankly, it's still in. Aside from Jennifer Hudson, Monique, Queen Latifah, and Jill Scott, positive portrayals of plus-sized Black women in the media are hard to come by. Oprah used to be the President of the Big Beautiful Women's Club and Star Jones the Vice-President, but they've since ditched us to get in with the thin club.
So here comes Eddie Murphy and the release of his latest endeavor "Norbit" that has him performing several different roles, including that of an obese, mean Black woman.
Thanks Eddie, as if Black women don't already have an image problem. That just did wonders for my self esteem and plus-sized Black women all across America; not only are we fat but we're mean too.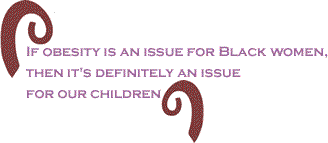 Being fat is no laughing matter, I can tell you because I speak from first hand experience. Everyday is a constant challenge from getting dressed, to leave the house, to dealing with the fact that Americans' obsession with skinny people causes good people with great hearts to go unnoticed, like me. I'm a woman and I like to shop, so it's not easy going into the mall knowing that aside from the shoe stores, there are very few places that I can go into that offer anything more than muumuu's for people my size. And while I can hide the fact that I'm a lesbian if I choose too, it's kind of hard to hide the 100 extra pounds I'm carrying.
A little known fact is that in America, 70% of Black women are overweight. So while we may be piling into the theaters to see "Norbit" and stuffing our faces full of popcorn, the cholesterol alone is killing us inside.
Films like "Norbit" do absolutely nothing to help combat the issue of obesity in the Black community nor do they do anything to uplift the Black female.

On one side we've got scantily clad Black women prancing across our TV screens, bouncing to lyrics too misogynistic to repeat in this editorial, from the mouths of Black men and then there's Murphy and "Norbit." What's a girl to do?
And in between all of this, what's the message we are conveying to our children about being a woman? If obesity is an issue for Black women, then it's definitely an issue for our children.
At the end of the day, Eddie isn't solely to blame for "Norbit," but he is the face of the film. Before the film reached theatres, it was green lighted by a group of people, hopefully none of which were Black women, who didn't care about the affect of the film on people like you or me, just the affect it had on their pocket books.
And I didn't need to see Eddie Murphy in a two piece to remind me of what I don't need to wear on the beach. Trust me, I know.
So, what was the question again? Am I going to see "Norbit?" No, I think I'd rather stay in and watch Chandra Wilson represent women my size on Grey's Anatomy tonight with the grace and dignity that we deserve.
So, while today it's "Norbit", in a few weeks it will be "Reno 911!: Miami" with Niecy Nash as Deputy Raineesha Williams and the big Black booty jokes.
When will the madness stop?
BC Columnist Jasmyne Cannick, 29, is a social commentator, nationally syndicated journalist and activist who was chosen as one of ESSENCE Magazine's 25 Women Shaping the World. She is a member of the National Association of Black Journalists and writes a popular daily blog at jasmynecannick.com and myspace.com/jasmynecannick. She resides in Los Angeles. Click here to contact Ms. Cannick.