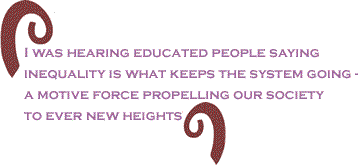 On more than one occasion over recent months I've heard or read something actually defending inequality. After a lifetime of hearing about the idea of "liberty, equality and fraternity", I was hearing educated people saying inequality is what keeps the system going - a motive force propelling our society to ever new heights. At first, I found it hard to believe what I was hearing. Then, I thought perversely, if a little inequity is good for us, a lot of it must be better. After all, that seems to be the operating principle of the people currently in power in the nation's capital. They keep pushing in that direction.
"The accepted view in social science is that inequalities are an inevitable condition of economic success," economic professor, Jacques Mistral, a senior fellow at Harvard's Kennedy School of Government, commented back in July. He went on to note that the number of people in the U.S. without health insurance is growing and poverty rates here are "the highest among all Organization for Economic Co-operation and Development countries, in particular for children and seniors."
Earlier this summer, belittling those it says "who would discredit American capitalism," the editors of The Economist magazine wrote: "Any system in which the spoils are distributed so unevenly is morally wrong, they say. This newspaper disagrees. Inequality is not inherently wrong." The editors went on to say inequality is not wrong if the society as a whole is getting richer; there is a safety net for the "very poor" and everybody has the chance to climb up through the system. Of course, that's not saying much positive about the economic situation today – at least in this country. The safety net is being shredded, and the most tattered parts are those designed to help the very poor. As far as everybody – "regardless of class, race, creed or sex" – having the ability to move upward, well, there's ample evidence it just ain't happening.

In June, The Economist did a special issue on "Inequality and the American Dream." It described the U.S. as a country "that tolerates inequality" and concluded that "… every measure shows that, over the past quarter century, those at the top have done better that those at the bottom" and "the gains of productivity growth have become increasingly skewed." Simply put, the editors acknowledge that while more and more wealth is being created, those who already have are having more and those who have little are having to make do with less.
But here we are - in the richest country on the planet where one in five children lives in poverty. Where a worker who earns the minimum wage takes in $10,700 which $6,000 below the federal poverty level for a family of three. Sixty-one percent of minimum wage earners are women, many of them single.
While corporate profits have soared, inflation-adjusted wage growth has stagnated and the wages of the lowest paid workers amongst us have not kept up with inflation.  From 2001 to 2003, inflation-adjusted income among households in the lowest 20 percent of the population decreased 5.1 percent.
Much is being made by some commentators about the income differences between workers at the lower end of so-called middle class and those employed at the higher level, more-skilled jobs. Much of this is statistical mirage. Income inequality is growing for the 80 percent of American workers who are characterized as "production and non-supervisory." – that is, the working class.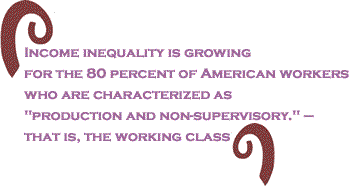 Between 2002 and 2003 the number of Americans in poverty increased by 1.3 million and poverty rates for African American and Latino workers stood at over 20 percent. At the same time, real income for the bottom 40 percent of African-American households fell by nearly 6 percent
The income disparity of African American families as compared to whites actually increased over the past decade.
As New York Times columnist Paul Krugman recently observed, "economic disparities in New York, as in the United States as a whole, are wider than they have been since the 1920's."

Enter the "Bell Curve." That's the title of  the 1994 book by early neo-conservatives Charles Murray and Richard Herrnstein's that asserts intelligence is largely a matter of birth, that there is little chance of altering that fact, and that poor people and African Americans in particular, are thus overrepresented among the unintelligent. Their screed was widely denounced for its racism and sloppy scholarship. Reactionary commentator Pat Buchanan, however welcomed it as shooting "a hole straight through the heart of egalitarian socialism which tried to create equality of result by coercive government programs."
Those who would have us believe that inequality is not only inevitable naturally return to this discredited view over and over because its thesis advances their idea of the inevitable rise to dominance of the "cognitive elite" under conditions of advanced technology and globalization. They maintain that the U.S. is becoming a genetic "meritocracy."

On October 5, The Economist returned to the subject of inequality in a special edition titled: "The Search for Talent." In it, the term "Bell Curve" appears twice. In an editorial comment, ominously titled "the Dark Side," the magazine said: