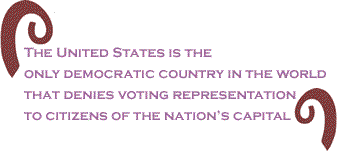 The DC Fair and Equal House Voting Rights Act (H.R. 5388), introduced by Representative Tom Davis (R-VA) and Delegate Eleanor Holmes Norton (D-DC), would give residents of Washington, DC, a voting representative in Congress for the first time ever. The nearly 600,000 Americans living in our nation's capital pay taxes, serve on juries, and defend our nation during times of war, but do not have voting representation in Congress. The United States is the only democratic country in the world that denies voting representation to citizens of the nation's capital. The DC Voting Rights Act is a step in the right direction to end this injustice in Washington, DC. Help DC Vote finish the work of the civil rights movement by urging your member of Congress to pass H.R. 5388.
As a vote-neutral, bipartisan compromise, the bill would give Democratic-leaning Washington, DC, a vote in Congress, while a House member would temporarily be added to historically Republican Utah, a state that narrowly lost getting an additional House seat after the U.S. Census 2000. The DC Voting Rights Act would increase the number of members of the House from 435 to 437.
DC Vote is thrilled at the progress we have made on advocating for the DC Voting Rights Act this year. In May, the House Committee on Government Reform passed the DC Voting Rights Act with overwhelming bipartisan support and a vote of 29-4. The bill then moved on to a hearing in the Judiciary Subcommittee on the Constitution on September 14.


A distinguished panel of witnesses came together in unanimous agreement during the hearing that denying congressional voting representation to DC residents is wrong, and we have high hopes that the Congress will take swift action to end the denial of democracy to more than half a million taxpaying Americans.
A national poll conducted in January 2005 confirms that giving Washingtonians a vote in Congress is a problem that Americans want to see fixed. The poll shows that 82 percent of Americans believe that Washingtonians deserve voting representation in the House and Senate. While we are attempting to export democracy abroad, it is time we provide American rights for people living in America's capital.

Legal scholars, including Kenneth Starr, Viet Dinh, and others, believe that Congress has the authority to grant the District of Columbia full congressional voting representation by passing simple legislation. You can make change happen now. Call or write your member of Congress and Senators. Ask them to support the DC Voting Rights Act (H.R. 5388) and pass this important bill that provides representation for DC residents in Congress. Also ask them to support legislation that would give DC residents representation in the U.S. Senate.
DC Vote is working every day to advance the likelihood that DC residents will be given a right every American deserves - representation in Congress. We are setting the stage for a civil rights revolution in the nation's capital.
Ilir Zherka is Executive Director of DC Vote, a 501 (c) (3) educational and advocacy organization dedicated to securing full voting representation in Congress for the residents of the District of Columbia. Visit dcvote.org to learn more about the DC VRA (H.R. 5388) and other information on DC voting rights.