"Kids Eat Shit in New Orleans Jail"
Those words, or something akin to them, should have been headlines. While Hurricane Katrina flooded New Orleans streets and homes, the waters also rose in New Orleans jails, including jails for juveniles.
"It had feces and stuff floating around in it, but some people drank it anyway because they were so thirsty."
The story of Hurricane Katrina is an epic one, a foretelling of what is to come for the rest of the country. New Orleans experienced in one fell swoop what the rest of the country is experiencing over time. New Orleans was devastated very suddenly by political corruption, global warming, cronyism, and racism. The rest of the country is facing all of those calamities too, only more slowly. Katrina presented a snap shot of America's future.
Little attention is ever given to the incarcerated, and the media told us nothing about the condition of New Orleans jails after the neglected levees failed and the city flooded. Recently we got an answer about the most vulnerable prisoners of all, juveniles, minors. They are usually referred to as children. The Juvenile Justice Project of Louisiana issued a damning report, "Treated Like Trash: Juvenile Detention in New Orleans Before, During and After Katrina," that documents how juveniles were left without food, water and medical care for days.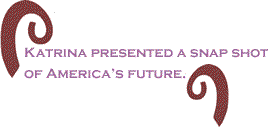 America is in a mad race with itself to incarcerate as many of its citizens as possible and children are not excluded. The Department of Justice recently confirmed that America still has the dubious distinction of keeping more of its citizens behind bars than any other country on earth. The already awful statistics worsened in 2004 and 2005 when an additional 1,000 inmates were incarcerated every week. The numbers of Americans behind bars increased by more than 2 percent in that one year period.
The enormous increase in the  prison population is a seldom debated subject. Most white people don't care or are in favor of putting and keeping more black people behind bars, and most black people are too embarrassed to speak out.
There are a few who will stand up for the least among us. In New Orleans, African American criminal court judge Arthur Hunter, Jr. has begun the very sensible process of freeing indigent prisoners. Most defendants rely on public defenders for representation, but the public defender system in New Orleans has no money and no attorneys to try cases. There are also not enough court rooms, jurors to deliberate, or witnesses to testify. Hunter's courage is to be applauded in a city that should otherwise be ashamed of the way it treated children behind bars.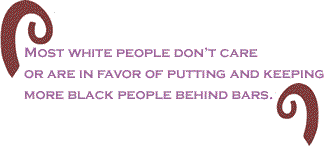 The Orleans Parish Prison (OPP) became a hell hole for juveniles. On August 28, 2005, authorities at two juvenile detention centers, the Youth Studies Center (YSC) and the St. Bernard Juvenile Detention Center, transferred their charges to OPP and its Orwellian named Community Youth Center (CYC). None of the 100 to 150 children transferred reported having any food to eat between August 29th and their evacuations which took place between three and five days later.
Upon leaving OPP, all of the children were forced to walk, swim, or be carried through heavily contaminated floodwater. Because many of them spent long periods of time – up to two nights and three days – waiting outside the facility even after leaving their dorms and cellblocks, this meant sleeping and traveling in clothes soiled with toxins.
Their abandonment was not unique among the many tales of survival told in New Orleans. The world saw the American government's absence, incompetence, and meanness on full display in the days after Katrina struck.

As in the rest of the country, juvenile detention in New Orleans is made for black people. Before Katrina struck the percentage of African American inmates at YSC was 95% and 98% at the CYC. The racial disparities in rates of incarceration say it all. The worsening rates of incarceration in the U.S. are tolerated, indeed encouraged because of the racist imperative to keep black people under control.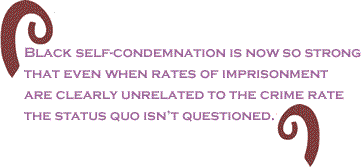 A nation that leaves children shackled and struggling as flood waters rise is not good, great, civilized, kind, generous, or any

other positive adjective that is routinely used to describe the U.S. The facts are damning, and contradict the image of benevolence that the rest of the world knows to be a lie.
Black America historically acted as the nation's conscience, but is now terrified of stepping forward and speaking up for the least among us. Self-hatred has now taken hold. That self condemnation is now so strong that even when rates of imprisonment are clearly unrelated to the crime rate the status quo isn't questioned. In some quarters it is even defended.
We have now been convinced that we should forget about juvenile and adult inmates. They are an embarrassment. If there is a black CEO who steals or a Secretary of State who kills thousands we are supposed to feel proud. If kids have to eat shit, well it is just too bad for them.
Margaret Kimberley's Freedom Rider column appears weekly in BC. Ms. Kimberley is a freelance writer living in New York City. She can be reached via e-Mail at [email protected]. You can read more of Ms. Kimberley's writings at freedomrider.blogspot.com.