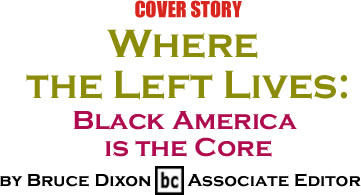 "The nation's remaining liberals are overwhelming African Americans.

"The BACVR study that ranks the political ideology of every major city in the country shows that cities with large black populations dominate the list of liberal communities. The research finds that Detroit is the most liberal city in the United States and has one of the highest concentrations of African American residents of any major city. Over 81% of the population in Detroit is African American, compared to the national average of 12.3%. In fact, the average percentage of African American residents in the 25 most liberal cities in the country is 40.3%, more than three times the national rate.

"The list of America's most liberal cities reads like a who's who of prominent African American communities. Gary, Washington D.C., Newark, Flint, Cleveland, Baltimore, Philadelphia, and Birmingham have long had prominent black populations. While most black voters have consistently supported Democrats since the 1960s, it is the white liberals that have slowly withered away over the decades, leaving African Americans as the sole standard bearers for the left….

"While there are some noteworthy pockets of liberals who are not African American, these places end up being the exceptions. College towns like Berkeley and Cambridge have modest black populations, but remain bastions of upper middle-class, white, intellectual liberalism. These liberal communities, however, are more reminiscent of penguins clustering together around a shrinking iceberg, than of a vibrant growing political movement."
"…declared their opposition to the war in Iraq and to the nomination and expected confirmation of Alberto Gonzales as attorney general.

"They also called for a higher minimum wage, discontinuation of recent tax cuts, investment in public education and reauthorization of the Voting Rights Act of 1965, some provisions of which are up for review in 2007….

"Leaders also demanded that Bush stop privatization of prison construction, reinvest in children's health insurance and increase global relief for black nations such as Sudan and Haiti."
"African Americans remain in remarkable, consistent agreement on political issues, a shared commonality of views that holds strongly across lines of income, gender and age. The Black Commentator's analysis of biannual data from the Joint Center for Political and Economic Studies confirms the vitality of a broad Black Consensus. Most importantly, the data show that Black political behavior has not deviated from recent historical patterns, nor is any significant Black demographic group likely to diverge from these patterns in the immediate future….

"African Americans are and have always been, in fact, clumped together on the left side of the conventional American political spectrum. An objective reading of the JCPES survey confirms some of the underlying basis for Blacks' liberal voting patterns – which is long term bad news for the Right and self-styled Black conservatives. Still, this is not good enough news for Black progressives, since the task of organizing people for political action requires an understanding of how they actually feel about issues as they relate to their own lives and in the context of their group's particular world view, rather than within the framework presented by American corporate media."
"Despite being the core of America's liberal base, a major split exists between who the nation's liberals are and who leads them politically. White politicians still control the levers of power within the Democratic Party, and black faces are rare around the decision making tables of America's liberal advocacy groups."


Your comments are always welcome.
Visit the Contact Us page to send e-Mail or Feedback
or Click here to send e-Mail to [email protected]
If you send us an e-Mail message we may publish all or part of it, unless you tell us it is not for publication. You may also request that we withhold your name.
Thank you very much for your readership.
October 6 2005
Issue 152

is published every Thursday.
Printer Friendly Version in PDF format. Download free Adobe Reader.