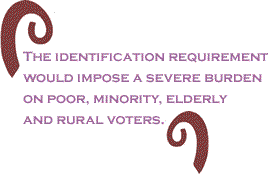 William Faulkner, a Mississippi author known for his incisive writings about the American south, once wrote: "The past is never dead. In fact, it's not even past." We are reminded of Faulkner's observation as a number of voter identification bills that will erect new barriers to minority political participation make their way through state legislatures, with Georgia's being one of the most onerous.
Georgia Governor Sonny Perdue recently signed H.B. 244, a voter identification bill that is one of the strictest measures in the United States for screening voters. It requires voters to present 1 of 6 forms of government-issued photo identification at the polls. Under the old law, Georgia voters were allowed to present any of 17 forms of identification; most of them, including bank statements and utility bills, contained no photos.
As of result of Georgia's long history of racial discrimination in voting, all of the state's voting changes must be pre-approved by the U.S. Department of Justice under Section 5 of the Voting Rights Act of 1965 to root out discriminatory intent or effects. Accordingly, H.B. 244 cannot take effect until it is reviewed and approved by the Department of Justice.
Five other states require voters to furnish photo identification at the polls, but all accept alternatives. Florida and Louisiana, for instance, allow voters who sign affidavits at the polling place to cast a ballot.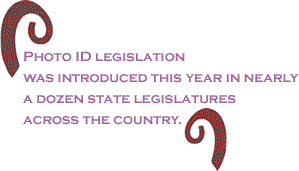 Sponsors of Georgia's voter ID bill assert that the legislation is intended to prevent fraud and enhance confidence in election results. But since the bill was not created in response to any particular instance of fraud, and its sponsors proffered an insufficient record of voter fraud in the state, it is doubtful that the bill is necessary. Indeed, supporters of the bill have yet to make a convincing case that existing methods of discouraging and addressing fraud are insufficient.
Unfortunately, Georgia's legislature is not alone in claiming that the mere risk of fraud mandates more stringent identification requirements of voters. As part of a growing national trend of exploiting the fear of fraud to hinder access to the ballot box, photo ID legislation was introduced this year in nearly a dozen state legislatures across the country, and such bills passed in Wisconsin and Indiana legislatures.
Under the Wisconsin bill, a voter would be required to produce a driver's license, official state ID or military ID. Currently, a registered voter in Wisconsin need only to give her name and address to cast a ballot.
Wisconsin Governor Jim Doyle vetoed the bill, and the state legislature failed to override.
Lawmakers in Indiana passed a similar voter identification bill, which Governor Mitch Daniels has indicated he will probably sign.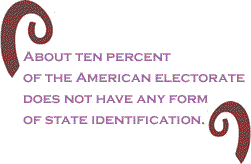 While the anti-fraud benefits of the voter ID bill are dubious, there is evidence that the identification requirement would impose a severe burden on poor, minority, elderly and rural voters, who are less likely to have photo identification.
Though more study is necessary, one report by the Task Force on the Federal Election System shows that about ten percent of the American electorate does not have any form of state identification. A study by the Department of Justice revealed that Blacks in Louisiana were five times less likely to have photo identification than whites.
Without question, photo identification requirements generally, and Georgia's in particular, will have a greater impact on certain communities and will reduce participation by otherwise eligible voters.
Historically, Georgia was one of the most relentless and systematic states in its efforts to deny voting and office holding to Blacks after the Civil War. It utilized every state instrument of disfranchisement to suppress the Black vote and safeguard white supremacy, including terror and violence, literacy tests, poll taxes, and white-only primaries. Georgia also tailored its felon disfranchisement law to require the loss of voting rights for only those crimes committed primarily by Blacks.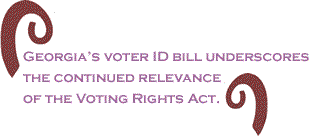 During the Civil Rights Movement, Georgia's legislature fought Congress's passage of the Civil Rights Acts of 1957, 1960, and 1964, and the Voting Rights Act of 1965. Not surprisingly, on the eve of the Voting Rights Act's passage, only 16 percent of Blacks in Georgia counties with Black voting-age majorities were registered to vote, notwithstanding the fact that the 15th Amendment granted Blacks the right to vote nearly a century earlier.
Georgia's voter ID bill underscores the continued relevance of the Voting Rights Act. Widely regarded as the greatest achievement of the Civil Rights Movement, the Voting Rights Act abolished many of Georgia's discriminatory voting practices, and, by shining a light on abuses, profoundly impacted Black registration and the opportunities for minority voters to elect their preferred candidates to office. Today, in its fortieth anniversary year, Section 5 of the Voting Rights Act will be called upon to protect Georgia's citizens from discrimination in voting.
The fact that we once again find ourselves faced with state laws that will impede minority voter participation lends truth to Faulkner's words that the past is never dead. In fact, in states like Georgia, it is not even past.
Ryan Paul Haygood is a voting rights attorney with the NAACP Legal Defense and Educational Fund, Inc.