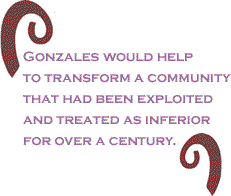 When in the summer of 1968 President Lyndon Johnson's Attorney General stood up before an audience of Chicano, African American, Puerto Rican, American Indian, and poor white activists, he had no idea he was about to receive a knockout punch delivered by a former Mexican American flyweight contender. When the stocky man with a moustache rose to ask his question, Attorney General Ramsey Clark dismissed him by saying he would not take questions until after his statement. Refusing to be silenced, the man stood again and forced Clark to listen to what he had to say.
That man was Rodolfo "Corky" Gonzales. He had come to Washington, D.C. as part of the Southwest delegation of the Poor People's Campaign, the project planned by Martin Luther King, Jr. to force the issues of poverty and economic injustice on to the national agenda. Gonzales did not mince words, telling Clark that if he would not admit that there was racial discrimination in housing he was either naïve or blind. Although this was the first time the national media had seen Gonzales, in the Southwestern states especially among young Chicanos he was already a legend.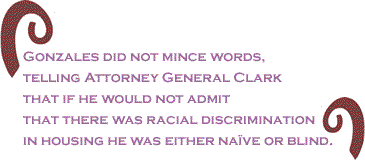 Corky Gonzales was born in Denver in 1928, the son of farm workers. His family continued to move constantly in order to follow the crops and yet miraculously Gonzales graduated high school at age sixteen. His boxing career included Golden Glove championships and an impressive professional record as a bantamweight. In 1988 he was inducted into the Colorado Sports Hall of Fame.
Throughout the 1950s, Gonzales owned a popular eatery and a bail bond company in Denver. His real passion, however, was community activism and he participated in numerous grass-roots organizations and electoral politics, directing the Colorado Democratic Party's "Viva Kennedy" campaign in 1960. By the mid 1960s, however, his confidence that Democrats had a better understanding of the plight of working people of Mexican descent was shaken. Police brutality, institutional racism, and an escalating war in Southeast Asia moved Gonzales towards a new identity and a new vision. "Chicanas" and "Chicanos" were being born across the Southwest – Mexican Americans with an attitude, no fear, and a hunger for social justice. Corky Gonzales would become one of their most courageous leaders.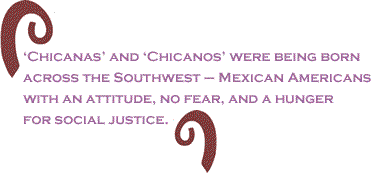 According to historian Ernesto Vigil, a founding member of Gonzales' Crusade for Justice organization, the Mexican revolutionary Emiliano Zapata was the historical figure Gonzales admired most. Like Zapata before him, Gonzales would help to transform a community that had been exploited and treated as inferior for over a century into a proud and spirited people who demanded their rights as U.S. citizens and citizens of the world. In his influential poem "I am Joaquin," Gonzales wrote: "Clamoring voices / Mariachi strains / Fiery tequila explosions / The smell of chile verde and / Soft brown eyes of expectation for a Better life."
In 1966, a full year before Dr. King made public his position against the U.S. war in Vietnam, Gonzales offered his own analysis. "Would it not be more noble," he asked, "to portray our great country as a humanitarian nation with the honest intentions of aiding and advising the weak rather than to be recognized as a military power and hostile enforcer of our political aims?" If we who are privileged to live in the United States enjoy a prosperity built on the backs of poor nations, he asked, are we not living the good life "at the expense of the blood and bones of our fellow human beings?"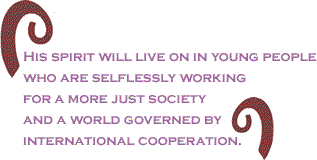 When Corky Gonzales passed away on April 12, the world in which his heroic acts took place seemed far away. Images of mass movements seeking to end unjust wars, police brutality, racism, militarism, and economic inequality are hazy and out of focus. Revisionists would like to dismiss the entire Vietnam war period – the Sixties – as a time of chaos and mayhem.
But the deeds of Corky Gonzales can never be dismissed or erased and his spirit will live on in young people who are selflessly working for a more just society and a world governed by international cooperation. And in Spanish-speaking homes across the nation, Chicano parents will teach their children that they owe a great debt of gratitude to Corky Gonzales, for he was a man who taught us to be proud of who we are and to demand the equality our families have earned.
Jorge Mariscal is the grandson of Mexican immigrants. He is currently Director of the Chicano/a~Latino/a Arts and Humanities Program at the University of California, San Diego. His writings on Latino topics can be accessed at http://jorgemariscal.blogspot.com/