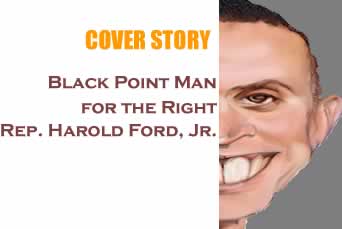 "One-fifth of the

CBC

are

members

of the DLC. These include Harold Ford, Jr. (TN)…Artur Davis (AL), beneficiary of the 2002 corporate cash offensive that also ousted Cynthia McKinney in neighboring Georgia; David Scott (GA), possibly the most conservative-voting member of the CBC, also a 2002 Black "New Democrat"; Gregory Meeks (NY), Juanita Millender-McDonald (CA) and James E. Clyburn (SC), an otherwise decent man who nevertheless finds it useful to co-chair his state's DLC; and Albert R. Wynn (MD),who is proud to have "represented the Congressional Black Caucus on the [House Democratic] Caucus Democratic Leadership Council."
"[It] represents a cornerstone in a structure which is being built but is by no means completed – a structure intended to lessen the force of possible future depressions, to act as a protection to future administrations of the Government against the necessity of going deeply into debt to funding relief to the needy, ­a law to flatten out the peaks and valleys of deflation and of inflation – in other words, a law that will take care of human needs and at the same time provide for the United States an economic structure of vastly greater soundness."
"Because of historical patterns of discrimination in the U.S. education system and labor market, African Americans are more likely to earn a modest living during the course of their working lives, more likely to have experienced spells of unemployment or underemployment, and more likely to retire with less income from private pensions, assets or personal savings."


January 6 2005
Issue 120

is published every Thursday.
Printer Friendly Version