---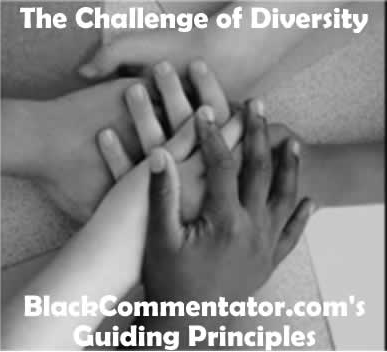 Why does BlackCommentator.com present opposing commentaries? Why do we not speak with one, cohesive voice of the "Progressive Black Community?" The answer is: there cannot possibly be just one voice of the Progressive Black Community, nor any other group of people, as long as we revere freedom of thought and speech.
Yes, but shouldn't a publication take an editorial stand and only publish that which falls within some prescribed editorial opinion? Perhaps that is true of other publications both on the web and in print, but it is not true of BlackCommentator.com. In fact, it is contrary to our core belief of what BC should provide to our readers.
At BC, we firmly believe that it is through discussion and debate of divergent opinions that we gain in understanding, and therefore may be brought closer together - not that we will come to speak with one voice on every issue, but will grow in our critical thinking.
We believe in inclusiveness of all those who consider themselves to be Progressive thinkers. How better to develop one's own, unique opinions than to understand divergent points of view? Surely, it would be racist and sexist, for example, to expect all Progressive, Black men to speak with one voice or to suppose all Progressive, Native American women think alike about every issue, or that any group with a common identity all have identical thinking. When we see the goings-on among conservatives we witness (albeit with some admitted relish) the distress with which certain conservative white men are learning that not all of them think alike, either.
Our editorial approach is to print what we assess to be well-written, Progressive commentaries, presenting a compelling point of view. With that standard as our guide, we, the Executive Editor and the Publisher, therefore do not necessarily agree with everything BC Commentators write; indeed, there are times when we completely disagree. At those times, we strive to understand the viewpoint in question, and then print the commentary so that our readers will have the same opportunity. BC doesn't strive to tell you what to think, but rather to give you the information with which to draw your own conclusions.
If BC can provide our readers with varying ideas with which to consider and shape one's own opinion, then we will have done much in fulfilling our purpose to further the development of economic and social justice – and peace.
Thank you for your readership and financial support of BlackCommentator.com. We value each of your communications as we, collectively, continue the struggle.