President Donald Trump and his Education Secretary, Betsy DeVos, have presented the FY2018 budget for the U.S. Department of Education, cutting it by 13.6 percent, including $10.6 billion in federal education initiatives overall: the elimination of 22 education programs; removing $1.2 billion from after-school programs and $27 million from arts education; reducing IDEA (special education funding) by $133 million; decreasing $2.1 billion in funding to reduce class sizes (which is key for providing the one-on-one attention at-risk students need to succeed); downsizing support for the professional development of teachers and other educators; and taking more than $700 million from college loans for low-income students. Their main initiative is to allocate billions of dollars for the expansion of funding for school choice, voucher and charter schools. The Trump-DeVos education paradigm shift is being complemented by the education reform Cartel's attack on public school leadership.
As noted on numerous occasions in previous columns, the Cartel is comprised of billion dollar plus national foundations—Gates, Walton, Bradley, Arnold, Fisher, Broad etc.; hundreds of their smaller allies whose net assets range from approximately $100 to $800 million and who primarily fund state and regional school choice programs; and wealthy corporate leaders throughout the nation. Both foundation groups and the wealthy elite are currently targeting pro-public education national organizations, school board members, and teachers to create a supportive educational environment in which the Trump-DeVos educational itinerary can thrive.
One of the first victims of this new education order is Cornel Brooks, the departing CEO of the NAACP, whose contract will not be renewed when it expires on June 30th; he is the organization's fourth CEO to leave or be fired during the past fifteen years. The NAACP Board asserts that the organization needs to be refreshed and restructured, although Brooks has increased membership by 87 percent and donations by 200 percent since January of this year, and that the association has been overshadowed by "Black Lives Matter." But inside sources say that Brook's major mistake was his forceful leadership and advocacy for the moratorium on charter schools passed by the NAACP's Board after vigorous, and often combative, internal debate at its 2016 annual meeting and subsequent discussions in its state and local branches. In addition, key conservative donors to the NAACP, i.e., Eli Broad, the Koch Bros., etc., were concerned about this measure as they are vocal supporters of charter schools.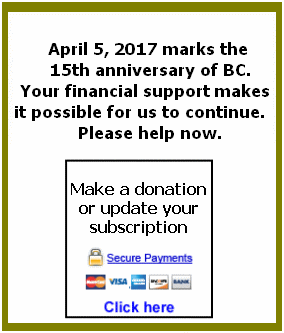 Another deciding factor in Brook's ouster was that a national Board member, Phil Murphy, former Ambassador to Germany and currently the leading candidate to become the next Democratic governor of New Jersey, also did not back the resolution. The charter moratorium is hampering his political flexibility as he strives to expand his voting constituency and his fundraising as he readies himself for the June primary and the November general election. Brook's impending departure allows Murphy to give a wink and a nod to his Wall Street cronies (Murphy is a former Goldman Sachs partner) who have invested heavily in charter schools.
In Jersey City, a Cartel surrogate has filed an ethics suit against school board member, Lorenzo Richardson, arguably the board's strongest advocate for public education. It has been alleged that he took unilateral actions independent of the board, had a conflict of interest, and disclosed confidential information. After he retained legal counsel, the latter charge was dropped, and it is very likely that the other charges will be dismissed as well. Last week in California, Eli Broad, the Cartel's erstwhile minister of education, secured majority control of the Los Angeles Unified School District (LAUSD) School Board after he and his Cartel partners funded the election of two charter school advocates, giving them effective control of the Board. Now he will be able to fulfill his earlier promise to convert fifty percent of LAUSD schools to charters by 2023, which will be facilitated by the upcoming Trump-DeVos voucher-charter windfall.
Last week, the Trenton, New Jersey School Board sent a letter accusing a veteran teacher, Janice Williams, of violating policies that could affect her employment with the district without revealing the nature of the charges against her. Ms. Williams, who also serves as the Grievance Chair for the Trenton Education Association (TEA), has long been a thorn in the side of the Board, making certain that it adhered to the tenets of the teachers' contract. She and the TEA President, Naomi Johnson-Lafluer, have been stalwart union activists who have continuously blocked Board efforts to terminate teachers on spurious grounds and other infringements in their workplace. They have aggressively confronted New Jersey's lead Cartel representative, Gov. Chris Christie, and his supplicant, Trenton Mayor Eric Jackson (who appoints the school board). These two have been collaborating on privatizing Trenton's public schools with the goal of making the state's capitol city a showcase for charter schools.
The expectation was that if a key union leader were to be eliminated, the union would be cowered into submission and stop resisting their privatization efforts. To the Board members surprise, Williams confronted them at their regularly scheduled meeting on May 30th, in front of an overflow audience, causing them to retreat under public pressure. Similar tactics were employed a few years ago in the Belleville, New Jersey Public Schools, where the then union president, Michael Mignone, was brought up on tenure charges, after he had been rated an outstanding teacher the previous year, for questioning the superintendent's teacher surveillance tactics which were a serious breach of the union's contract. After a protracted legal struggle, the tenure charges against Mignone were dropped, and the superintendent was terminated shortly thereafter.
Since New Jersey is the second largest affiliate of the National Education Association (NEA), the Cartel's actions are designed to place the state on a glide path for a privatization takeover of its public schools and align it with the Trump administration's school choice program. These intimidation strategies are being employed across the nation as the Cartel feels it is on the cusp of a major privatization victory. The Cartel has developed a multifaceted game plan to privatize American institutions of which the public schools are just one element. Public education patrons need to begin to connect the disparate dots before a favored institution no longer exists in its present form.