President Donald Trump and Education Secretary Betsy DeVos have bamboozled HBCU Presidents, AGAIN, after inviting them to the White House on February 27th to participate in a brief photo-op under the pretext that Trump would increase HBCU funding. While at this minstrel show, DeVos arranged for Dr. Edison O. Jackson to invite her to give the May 10th commencement address on his Bethune-Cookman University (B-CU) campus. After the uproar over this solicitation enveloped the campus population, alumni, and HBCU supporters across the nation, Trump pulled a rabbit out of his hat to distract the controversy
He stated in his budget signing declaration that the federal HBCU annual subsidy was in violation of the U.S. Constitution, causing the DeVos detractors to change their focus to this issue. In the interim, the Trump administration promoted its revisions to Pell Grants, restoring their year-round availability, as a major boost to HBCU students, and it was applauded by Dr. Michael Lomax, President of the United Negro College Fund (UNCF) although there was no increase in the amount. Nevertheless, the overwhelming majority of students who will benefit from this Pell Grant change are white.
A few days later, Trump recanted his statement that the government's yearly HBCU support was an infringement on the Constitution and agreed to continue providing the allotment, without the increase that he implicitly promised at the meeting of HBCU Presidents in the Oval Office. At the same time, DeVos was leading B-CU's Dr. Jackson to believe the university would be financially rewarded for carrying her political water.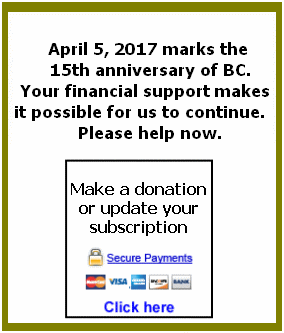 Thus, Trump and DeVos were temporarily successful in lowering the decibel levels on Trump's funding double-cross of HBCU CEOs and DeVos's B-CU commencement address and receipt of an honorary doctorate. Nonetheless, last Monday, the Florida State Conference of the National Association for the Advancement of Colored People (NAACP) demanded the resignations "… of Bethune-Cookman University's Board of Trustees Chair Joe Petrock and University President Edison Jackson, days before the school … host(ed) U.S. Education Secretary Betsy DeVos as its commencement speaker." The NAACP also stated that DeVos was completely unworthy of the honorary doctorate she received from B-CU on Wednesday.
While all of this was going on, Trump and DeVos were able to blunt the negative impact of the Washington, D.C. study of voucher schools which documented that they were under performing as compared to the D.C. public schools. Trump has committed to include billions of dollars for charter and voucher schools in his 2017 budget irrespective of these findings. He made an unscheduled appearance at a White House event where D.C. voucher students had been brought in to meet with Education Secretary DeVos and Vice President Mike Pence during National Charter Schools Week.
Trump used the occasion to criticize D.C.'s public schools while praising the D.C. Opportunity Scholarship Program, the nation's only federally funded school voucher program. He said to the kids, according to a White House transcript:
"…The Opportunity Scholarship program that we're funding allows families in the inner city of our nation's capital to leave failing public schools and attend a private school, making an extraordinary difference in these incredible young lives. You're so lucky. Great. You're happy about it? Huh? That's great." The results speak for themselves. Ninety-eight percent of scholarship recipients represent their high school diplomas, and they're really very, very special. They go into tremendous successes. So I think you're going to all be very, very successful. You have a big start, right? Great start."
Trump's bold, off-the-cuff, and inarticulate remarks contradicted the results of his Education Department research division's findings that D.C. voucher school students "… performed worse on standardized tests within a year after entering D.C. private schools than peers who did not participate." Such results have been repeated in state-funded voucher programs throughout the country: Indiana, Louisiana, Ohio, and Wisconsin among others.
Trump's keen political instincts and strategies have to be respected. He always seems to make the right moves, no matter how controversial, at the right time. For example, he successfully nominated and had confirmed right-wing Appeals Court Judge Neil Gorsuch for a seat on the Supreme Court of the United States (SCOTUS) and in the process blew up the filibuster that previously required 60 votes. Gorsuch received 54.
Trump is now re-stocking the Twelve Federal Appeals Court Circuits with arch-conservative judges with the goal of switching them back to Republican control since former President Obama had flipped eight of them to Democratic control during his two terms. Trump recently nominated five judges to the Appeals Courts: two to the 6th Circuit, one to the 7th Circuit, one to the 8th Circuit, and one to the 11th Circuit. All have been approved by the conservative Heritage Foundation and the Federalist Society from where Trump gets all his judicial referrals. And he has a slew of forthcoming appointments to federal district courts. Many cases pushing public education into the private sector will likely be upheld at the Court of Appeals level and affirmed at SCOTUS now that Republicans have a 5-4 majority.
The Trump Administration has already changed school lunches, for the worse, and has cut funding for after-school programs that have been of greatest assistance to poor children of color in the nation's large and small urban centers. It is becoming apparent that Trump is not only bamboozling HBCU Presidents but that he is deceiving us all.
His gangster tactics—similar to those of his close political friends, President Tayyip Erdogan of Turkey and President Vladimir Putin of Russia—are usurping the foundations of our democracy. Trump's Nixonian firing of FBI Director James Comey, a Tuesday afternoon massacre, is the latest example of his move toward authoritarianism.