The rally in Trenton on May 15th needs to be repeated across the state of New Jersey. The Cartel of corporate education reformers is pulling out all stops to privatize public education in low wealth urban districts and moderate- to high-wealth suburban districts across the state.
While supporters of public education were gathering in Trenton, a cabal of Cartel lackeys was already scheming to regain control of the Montclair School Board (MSB) so that they could select another Broad superintendent to privatize school staff and services and to have the Board approve a corporate charter school which the larger Montclair community opposes. On that Saturday, Montclair Cares About Schools (MCAS) held an excellent forum on charter schools in an effort to educate the Montclair community about the downside of charters. It is ironic that the two initiatives were occurring at the same time.
Montclair Mayor Robert Jackson, who unilaterally appoints the school board (as is the case for Trenton Mayor Eric Jackson) had recently chosen three new Board members: Rev. Jevon Caldwell-Gross, Atty. Joe Kavesh, and Franklin Turner. Before they could be formally sworn in, Shelly Lombard, an African American and former Board member, penned a letter to the mayor asking him to support Laura Hertzog, a remaining MSB member, for president in an attempt to overthrow the sitting white president, Atty. Jessica de Koninck. Her single failing, in the eyes of Lombard, is her strong support for traditional public schools.
When the scheme came to light, the resulting furor made Mayor Jackson rescind his three new appointments. However, the intense lobbying of Don Katz and other Cartel surrogates caused the mayor to reverse course again in a day and a half and let the three appointments stand.
The Cartel employed a slick and racist takeover strategy by arranging support for the election of a black president, Laura Hertzog, and a newly appointed black vice president, Franklin Turner, so it could control the Board under the guise of racial progress, having people of color do its "dirty work."
Thus, the new leadership would serve as a badge of honor for an upscale suburban community while the school district was being raped and pillaged by the corporate elite. At its first meeting, the new Board was unable to elect a new president and vice president as the vote was 3-3 on both positions, split between pro-public education advocates (Jessica de Koninck, Eve Robinson, and Anne Mernin) and pro-school privatization advocates (Laura Hertzog, Joe Kavesh, and Franklin Turner)—three white women on the side of public education and a black female, a black male, and a white male carrying the banner for privatization.
Rev. Jevon Caldwell-Gross, a new African American member, and the seventh vote that was supposed to clinch the elections for Hertzog and Turner, was unable to attend. It was later found that he was not a registered voter at the time of his nomination, a requirement for the position. Thus, Caldwell-Gross' appointment is now null and void, which leaves the Board deadlocked. Mayor Jackson has to return to the drawing board and hopefully will make a viable selection next time.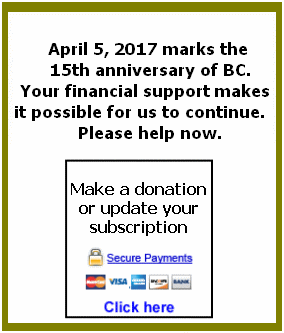 Hertzog has long disconnected herself from Montclair's African American community, preferring to cast her lot with the Cartel-funded Montclair Kids First (MKF) as a rabid promoter of privatization and opponent of teacher unions, a female version of Donald Trump's black puppet, Dr. Ben Carson. She has been joined by Tracey Williams, also black, who has gathered intelligence on the Montclair Education Association (MEA) for the Cartel in exchange for its support of her application for a charter school that has been denied several times. So it goes.
Interim Superintendent Ronald Bolandi stated, "if the board did not in their duly constituted meeting of reorganization … pick a president or a vice president, it goes to county superintendent to pick the president and the vice president by the next meeting." Bolandi has held the corporate education reformers at bay since his predecessor, Dr. Penny MacCormack, the Cartel's handmaiden, was forced to leave under a cloud.
Elsewhere, Jersey City Mayor Steve Fulop is still pressuring the school board and the teachers' union toward privatization after allowing a contract to be settled in 2015 after a protracted, 28 month struggle. He only caved in after two of his five member Board majority were threatened with defeat in their election bids. Now that they are safely seated, he is back up to his old privatization tricks. A former Goldman Sachs trader, Fulop is committed to pushing Jersey City Public Schools into the free market so his former employer and other corporate financiers can profit.
Jersey City Education Association (JCEA) president, Ron Greco, has continued to lead his members to push back against Fulop's biased teacher evaluation plan with the support of school board member, Lorenzo Richardson, and three other members who have championed public education and backed teachers. As he plans a gubernatorial run in 2017, Fulop is trying to modify his anti-public education stance.
The Cartel assault was also strongly rebuffed in South Brunswick when the South Brunswick Education Association (SBEA) and their community allies forced the resignation of Dr. Jerry Jellig as superintendent. Employing the strategy successfully used by the three amigas in Highland Park, Nancy Grbelja, Darci Cimarusti, and Kimberly Bevilacqua-Crane, the teachers have led a yearlong protest, filed numerous grievances, and packed school board meetings.
The Board fired Jellig unanimously after hiring him unaninmously a little over a year ago. Rallying for public education matters! Urban and suburban teachers and communities are standing up for public education all over the state: Debbie Baier in West Windsor-Plainsboro; Mary Steinhauer in Burlington County; John Jolli and Susan Berkey in South Brunswick; Annette Alston in Newark; Sondra Stovall in East Brunswick; Joyce Carter, Dr. Ibn Ziyad, Mangaliso Davis, and Ronsha Dickerson in Camden (against overwhelming odds); and David Herron, Montclair Cares About Schools (MCAS), and Montclair's rank and file teachers in that city.
In the meantime, Trenton remains under siege with the proposed 236 layoffs of teachers and paraprofessionals and Mayor Jackson's efforts to turn Trenton over to Gov. Christie and the Cartel for "forty pieces of silver."
Naomi Johnson-Lafleur and Janice Williams, Trenton Education Association leaders, are facing the fiscal manipulations of the school board president, the business administrator, the superintendent, and the mayor. In addition, several local prominent African Americans and a leading minister (all nameless for now) have been conspiring with Mayor Jackson to create a group of charter schools so they can "get their beaks wet" at the public trough of charter school funding even if it bankrupts the Trenton Public Schools.
Public education in New Jersey has never been under greater duress. Christie is paying off his political debts to the Cartel by aggressively trying to turn over public education to the corporate sector in both urban and suburban districts. Public education stakeholders are beginning to rally and organize around all of New Jersey's public schools. But they need to step up the pace.
Public education appears to be taking center stage in the 2017 gubernatorial race where the Democratic primary is likely to be comprised of State Senator and Senate president, Steve Sweeney, who upended teachers' pensions and benefits in the Democratically-controlled legislature; Steve Fulop, who has waged war on teacher and other unions as mayor of Jersey City; and Phil Murphy, former Obama appointee as Ambassador to Germany and a member of the National NAACP Board.
Murphy formally announced last week after meeting with thousands of New Jersey citizens in listening sessions across the state for more than a year. He tackled lead poisoning head on while his likely opponents have swept it under the rug or have avoided it altogether.
Murphy has also solicited feedback from teachers about the state of K-12 education: adequate funding of public education, teacher pensions and benefits, and a moratorium on public school privatization and corporate charters. Murphy has tasked his senior staff to develop a comprehensive response to educators' concerns. One thing appears to be certain; education will have a prominent place in the governor's race whether all the candidates want to address it or not.