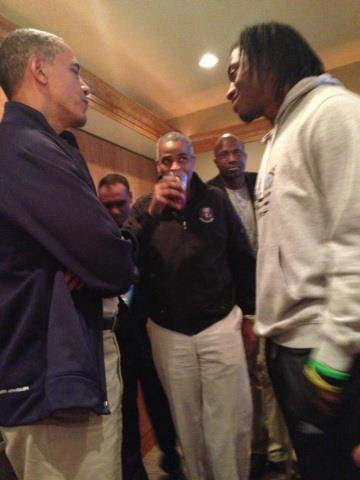 A picture, but especially this Kodak Moment is worth thousands-upon-thousands of words, yet the two words I think of are... "Black Power."
Forgive me... by no means am I suggesting Black folks have "overcome," nor am I saying we, as a people, have been to the "mountaintop." What I am offering up for cocktail conversation is this; the highly exalted position of US President, for even a once but no longer United States of America, and the position of "NFL Quarterback" are two of the most prominent positions within American society and culture.
With these two men come a couple of other aspects of Black influence and clout... a Nubian beauty as "First Lady" - as a representative and standard-bearer of American femininity – as opposed to the traditional Snow White.
As well as the most popular gridiron gladiator in all the land, the Golden Boy, the Field General/Signal Caller boys want to be, and little Black... and White girls want marry, has the nerve to defy the "purists" on both sides of the racial spectrum and exercise his option to take himself a White woman and the greater White society may not like it... but they have to tolerate it.
They hanged Black men for that, in my lifetime...
Times have changed in America. This isn't my ol' man's US of A.
Granted these "changes/advancements" I'm citing can clearly be categorized as mere "window dressing." If you look beyond President Obama and Washington Redskins franchise Quarterback, Robert Griffin III... we all know Black men are damn near becoming, between self-destruction and societal persecution, an endangered species.

Nonetheless, the singular accomplishments of these two men are something which was, let us say, debatable at best, and realistically doubtful in the eyes of millions a quarter-century ago at the height of Reagan's 2nd term, which began in 1985. If one considers the racism, the White backlash, that propelled the Ronnie "666" Ray-Gun Revolution, it seemed improbable White America would ever pull the lever for a Black person.
But I don't believe the story here is "progress."
No, instead I've concluded most Black folks and other Americans-of-Color have no idea how a snapshot of these two men together sends chills up n' down the spines of Republican TEA Party card-carriers.
Black Power...
That's what "conservatives" see, "Black Power."
This photo will motivate scores of people, hundreds if not thousands of nervous, scared, paranoid people who populate the "Right" to go out and purchase a gun...
Because the sky is falling and Niggers are coming.
It seems most of my somewhat simple-minded Black peers are so busy gloating over how we've "overcome" with the reelection of Obama, it seems we can't see, nor care to give a damn about the growing "White backlash" we see rippling through US society. We're so excited we won, we don't see the "next move" coming. And there is a "next move;" the opposition will not go quietly into the night or the annals of US history.
We're like a back-alley checker player in a multi-tier chess game.
The sight of Black Power is unsettling and unnerving for most of White America. Why? I'd think it had something to do with how this empire was created, constructed and maintained - by any horrific means deemed necessary - as a society we're ok building more for-profit prisons then pre-schools.
Look at South Africa: with Mandela unfortunately nearing the inevitable-end, there's a fear amongst White South Africans (oxymoron) the Blacks will lose their moral compass, understand the numerical Black Power they represent, turn on the Godfather, James Brown's classic 1972 Black anthem, "Payback," and commence to extracting revenge for centuries of Apartheid.
That same fear is preset in the US.
Please, please, please, don't delude yourself; all those bullets being sold at gun shows aren't for Bambi and Yogi, but for your brothers-in-law Ray Ray, LaJermaine and LaMichael...
The gun debate in America is driven, by not the desire to hunt or target practice, but by the fear White folks harbor inside. One day, perhaps soon, Americans-of-Color will "unite," go after our "common oppressor" and seek retribution for everything from the unemployment numbers to police brutality to the erection of an alligator infested moat along the Southern US Border to just the day-to-day incivility and condescending attitudes we encounter in our daily black, brown, red and yellow lives.
So, when a picture of the President of the free world, Barack Obama, is broadcast worldwide via the World Wide Web and standing with him is RGIII, the new "face" of America's national Pastime, it says to millions of White folks across a racially divided and polarized nation... the sky is falling, the Niggers are coming.
I know you want me to dress that word up, find a better way to make my point, but I don't believe there is a better way to verbally illustrate the real, true feelings of angry White men than to use the terms they throw around in the cabs of their trucks, at the bowling alley, at church, in the hot tub with friends.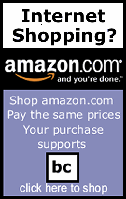 The picture of President Obama with Tiger Woods a few weeks back, those two Black men, in a country club setting, "slappin' whitey around" (golfing) was without argument a representation of "Black Power." One which ignited a blue flame under the asses of Rand Paul, Rush Limbaugh and Sean Hannity's rank n' file Redneck followers. It signals an end to a lengthy era in US history where White men had all facets of life "fixed."
Especially the Good Life...
President, pro-quarterback, a policeman or school principal... White men had it "rigged" so only they, White men, could attain any of these alpha positions within American life. "Colored" and" White" signs have remained atop these categories despite laws and rules being changed.
Invisible is all they've become.
But what is visible are the tell-tale signs of Black Power. How many little Black boys and girls are going to decide they, too, can be President or can knock down country club doors if they put their minds to it?
This picture of Black Power emboldens, inspires, encourages and motivates people to go a little higher in life, and that's what I want to see: we, as a people, going a little higher in life.
Can I take you higher?!