When preachers pontificate too much from on High about the sins of homosexual sex, the cautionary tale is to be careful of what you say, because your words invariable will come back to bite you, as we are seeing with Bishop Eddie Long.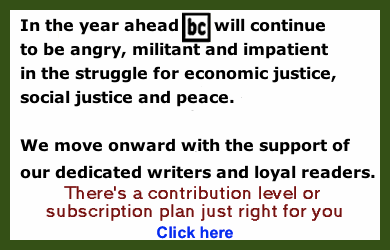 Called by the Southern Poverty Law Center as "one of the most virulently homophobic black leaders in the religiously based anti-gay movement," it came as a surprise, sending seismic shock waves across the African American church community, when news broke about Long's alleged sexcapdes with two male teenagers, followed immediately by a third allegation, while they were enrolled in his ministry for teen boys.
Long is a flamboyant man, and he likes to flaunt his gifts. As one of the Black Church's prominent pastors of "prosperity gospel" his "bling-bling" theology unabashedly flashes not only his Gucci sunglasses, gold necklaces, and Rolex watches, but also unapologetically flashes his muscular physique in the latest tight-fitting spandex workout togs. Long has been rumored, for some time, to be gay.
And for those inside of Long's stained-glass closet at New Birth Missionary Baptist Church, they have known of the bishop's penchant for pubescent boys, he calls "spiritual sons."
Sadly, however, Long, like too many African American ministers on the "down low", has erected his bully pulpit denouncing gays while using his clerical authority to court and to covet them.
At his infamous anti-gay march in December 2004 titled, "Stop the Silence," denouncing same-sex marriage Long stated, "In essence, God made Eve to help Adam replenish the earth. Woman has the canal…everything else is an exit… Cloning, Homosexuality and Lesbianism are spiritual abortions. Homosexuality is a manifestation of the fallen man."

Long's is not alone - to be gay or rumored to be gay - in denouncing homosexuality.
For example, speaking at the November 2009, Church of God in Christ's 102nd Holy Convocation International Youth Department Worship Service, Pastor Donnie McClurkin told his audience, "God did not call you to such perversions. Your only hope is Jesus Christ. Were it not for this Jesus I would be a homosexual today. This God is a deliverer."
The poster boy for African American ex-gay ministries attributed his homosexuality to being raped twice as a child, first at age eight at his brother's funeral by his uncle, and then at age thirteen by his cousin, his uncle's son. Confusing, however, same-gender sexual violence as homosexuality, McClurkin misinterpreted the molestation as the reason for his gay sexual orientation. McClurkin "testi-lies" that his cure was done by a deliverance from God and a restoration of his manhood by becoming the biological father of a child.
Another example is Bishop T. D. Jakes, the internationally known African American evangelical star, dubbed as the black Billy Graham. His ranting against homosexuality came back to bite him in January 2009, in the form of his oldest son's, Jermaine Jakes, arrest in a sex sting for openly soliciting gay sex from an undercover vice detective in a public park, just a few blocks from his church, The Potter's House, a 30,000 member megachurch in Dallas, Texas.
Bishop Jakes is now tight-lipped on the topic of homosexuality, because Jake's son's arrest has the African American LGBTQ community abuzz with rumors resurfacing about his sexuality.
In September 2005, activists Keith Boykin and Jasmyne Cannick kicked off a five-part series, "Outing Black Pastors," on their respective websites, querying publicly whether prominent pastors in the black community, like Bishops T.D. Jakes, Donnie McClurkin and Eddie Long, who constantly rail against LGBTQ people, were actually struggling with their own sexual orientation.
The mess in which Long now finds himself is emblematic of the Black Church's down low (DL) "politic of silence" concerning sexuality.

J.L. King, who became the country's poster boy by exposing the behavior in his best-seller, On the Down Low: A Journey into the Lives of 'Straight' Black Men Who Sleep with Men stated, not surprisingly, that many of his partners were churchmen. "There are gospel conventions throughout the nation for churches. There is one for ushers, Sunday school departments, music departments and ministers . . . These events allow men to meet men and to have sex while away from their hometowns. Many midnight concerts turn into affairs where brothers are cruising each other. I've been there, seen it and done it," King states in his book.
Many African-American men on the DL say there are two salient features that contribute to this subculture - white gay culture and the Black Church. The Black Church's conservative gender roles and anti-gay theology create a hidden homosocial community of DL male clerics who find camaraderie at black pastors' or at all-male conferences, where Long took his spiritual sons.
Long has not created the homophobic climate in the Black Church but he has certainly contributed to it.
With a membership of over 25,000, Long's church is the largest African American megachurch in the Southeast. And as the largest it can begin, with his sex scandal, to effect change by embracing a liberating, healthy and holistic understanding of human sexuality.
And in so doing, Long would be creating a model of pastoral care not only for heterosexuals or homosexuals, but most importantly, one for him.
BlackCommentator.com Editorial Board member, the Rev. Irene Monroe, is a religion columnist, theologian, and public speaker. She is the Coordinator of theAfrican-American Roundtable of the Center for Lesbian and Gay Studies in Religion and Ministry (CLGS) at the Pacific School of Religion. A native of Brooklyn, Rev. Monroe is a graduate from Wellesley College and Union Theological Seminary at Columbia University, and served as a pastor at an African-American church before coming to Harvard Divinity School for her doctorate as a Ford Fellow. She was recently named to MSNBC's list of 10 Black Women You Should Know. Reverend Monroe is the author of Let Your Light Shine Like a Rainbow Always: Meditations on Bible Prayers for Not'So'Everyday Moments. As an African-American feminist theologian, she speaks for a sector of society that is frequently invisible. Her website is irenemonroe.com. Click here to contact the Rev. Monroe.