Some want to weaken support for public education in America, and an important piece in their struggle is charter schools. Clearly, though, public schools are such a monumental national institution, they are not going to go away quietly or easily.
Many politicians (mostly Republicans and mostly conservative) over many years have worked to chip away the importance of public education, even attempting for years to eliminate the U.S. Department of Education, on the basis that this governmental function is more properly done by the states. But, essentially, that argument is more a cover for the move to privatize as much of education as possible.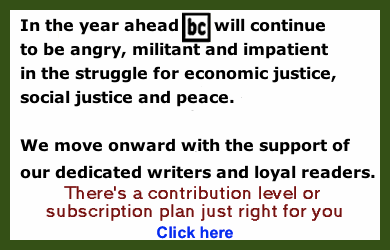 Charter schools, so far, have been a mixed bag, mostly showing that smaller and more specialized schools can do well right in the midst of failing public schools, especially in inner cities - which is where most of them are located.
Mostly, though, they have not lived up to the hyped praise they have received from those who somehow benefit from their existence. In New York, for instance, some of the high profile proponents of charter schools are on the political right. Some are benefiting from the existence of charter schools, serving on the boards of charter school advocacy groups or having some connection to the for-profit private companies that often run charter schools.
Television programming in New York State this spring has had its full share of advertising in favor of charter schools. The commercials blast the inaction of the State Legislature (already roundly criticized for inaction on many other issues) for failing to lift the cap on the number of charter schools in the state. At the end of the commercials, the viewers are asked to contact their representatives to raise the cap, thus making New York eligible for some $700 million in federal school aid. President Obama favors charter schools, and so, therefore, does his education secretary, Arne Duncan.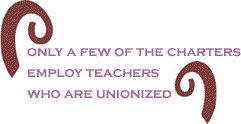 Anti-tax and anti-government groups are in favor of charters and the result has been that New York's capital city, Albany, has more than its share. Some school officials and the Albany Public School Teachers Association (APSTA), an affiliate of the American Federation of Teachers, are concerned that more charter schools will threaten Albany's traditional schools, with the budget already strained to accommodate the existing charter schools. This is happening in other U.S. cities, as well.
Charter schools are public schools - elementary and secondary - so they receive a per capita payment for each student, paid for by district taxpayers, yet they are not subject to the same rules that traditional public schools must follow: For example, only a few of the charters employ teachers who are unionized, so there are no such pesky things as collective bargaining or grievance procedures.
About 1.2 million students attend some 4,100 charter schools across the U.S., according to the Center for Education Reform, about 2.4 percent of American students.
It's for sure that such a small percentage of students in private schools paid for by public money will never satisfy opponents of public education, such as George Will, who recently described Democrats as "comfortable in a relationship of co-dependency with teachers unions." He writes as if Democrats are the only ones interested in the education of America's children.
He decries the $23 billion (now under consideration) "bailout" of public education by Secretary Duncan, ignoring that the two are on the same side of the charter school issue. Obviously, the growth of charters is not fast enough for Will.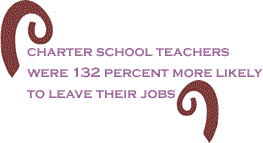 Perhaps, though, it's not so much public education that is the issue for people like Will, but it's their animus against unions, the perennial hobgoblin of the right wing. If the teachers were not unionized in public schools, Will and his friends would have to find another scapegoat, although about a year ago in a speech in Colorado, he indicated that home life and other factors might have something to do with school performance.
He and other critics of public education have few answers and it is unlikely that many of them have ever spent a year trying to teach children who are hungry or disturbed in some way, or both. And, they don't want to get into the touchy issue of poverty and how it affects children's learning, or why their families are poor.
Secretary Duncan told an interviewer on ABC last January, "The best thing that happened to the education system in New Orleans was Hurricane Katrina." In retracting his statement a short time later, he explained that he meant the city's schools already were in such disarray before Katrina that they had to be built up from scratch. Charter schools just happened to be the main part of rebuilding. New Orleans now educates 57 percent of its students in charter schools.
A particular favorite charter of Will's is the American Indian Public Charter School (AIPCS) in Oakland, Cal., founded by Dr. Ben Chavis, who started his school for about 200 students in 2000. Chavis ran the school - he's now emeritus - with boot-camp-like discipline, strictly regulating the behavior and dress of students on school grounds and requiring a regimen of long hours of study. It worked. AIPCS moved steadily upward and was listed the fourth-highest middle school in Oakland in the 2008-9 school year.
Like other charter schools, AIPCS was able to easily get rid of teachers thought not to be performing well and Chavis had pretty much a free hand in setting the rules for everyone involved in the school, including parents. But then, he had just 200 students.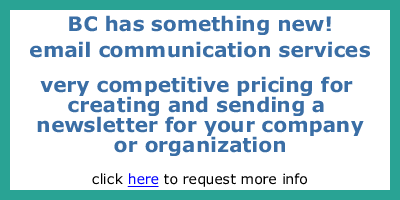 The toll on teachers in charter schools by long hours and lack of job security has not been much discussed or analyzed, but a clue might be found in a study by a pair of Vanderbilt University researchers, showed that charter school teachers were 132 percent more likely to leave their jobs, than teachers in traditional schools. Obviously, there are many possible reasons for this, including their age, certification or lack thereof, pay, extended work schedules, and job security.
Sean Gallagher, founder and principal of Akili Academy in New Orleans, told a Times-Picayune reporter last March that the teachers in his school, founded in 2008, are paid for a 50-hour week, but that they often put in 60-70 hours. He also said that none of his teachers is married - and, they don't have children.
At Akili, like so many charter schools, there is a feeling of camaraderie and bonding and the adventure of starting something new in one's field. And, in a very bad job market, there is the satisfaction of actually landing a job.
Charter schools are educating only about 2.4 percent of America's children, while the other 97.6 percent are still being schooled in the despised (by George Will and his compatriots) traditional public school system and its teachers' unions. In some ways, the charter school movement has been growing slowly, since the first one in 1992.
Proponents may have to live with that. However, when you have a president of the United States on your side, charters could take a great leap forward and grow exponentially.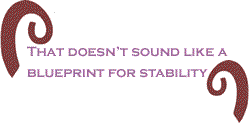 Or, Americans can make an effort to recognize the reality and find ways to make the current system work better.
But if they are hoping to make charter schools the new wave of education, they might want to hear the words of a young teacher at Akili in New Orleans, working the 60-70-hour weeks, which are indicative of the general conditions in charter schools. Without realizing it, he may be speaking for most teachers and staff at such schools across the country.
The Times-Picayune reported that 24-year-old teacher Francis Giesler said, "I'm totally tired, and if I'm still working this many hours next year, I maybe wouldn't work a fourth year."
That doesn't sound like a blueprint for stability in American education's new world.
BlackCommentator.com Columnist, John Funiciello, is a labor organizer and former union organizer. His union work started when he became a local president of The Newspaper Guild in the early 1970s. He was a reporter for 14 years for newspapers in New York State. In addition to labor work, he is organizing family farmers as they struggle to stay on the land under enormous pressure from factory food producers and land developers. Click here to contact Mr. Funiciello.