As we at CBC Monitor compile data for our next Report Card on the voting behavior the Congressional Black Caucus, we thought it interesting to compare our methodology with that of Black Enterprise (BE) magazine. To put it bluntly, there is no science – political or otherwise – in BE's February 2006 "Progress Report" on the Bush Administration's impact on African Americans.
Bush's "grades" range from a high of B- for helping small business to a D- on tax cuts – certainly an inflated score for an administration that garnered only 11 percent black support in the 2004 election and has been going downhill among all groups ever since. However, the entire BE exercise turned out to be worthless, based as it was on the opinions of only six  black "movers and shakers," three of whom are the most rightwing members of the Congressional Black Caucus. Another black grader was a high White House official at the time. Two political scientists were asked their opinions.
Titled, "Bush administration not making the grade: what has the government done for African Americans lately?(WASHINGTON REPORT)" the article uses a "scorecard" format to give readers the impression of rigorous research and credible results. In fact, BE's panel of graders reflects nothing but the magazine's bizarre notions of "balance" – a juggling act in which four of the six cast members consistently perform to the audience's right.
We were particularly appalled to find BE had chosen three black lawmakers to grade Bush who had themselves gotten abysmal marks in the CBC Monitor Report Card:
All three earned the distinction, "Derelicts of the Congressional Black Caucus." Black Enterprise really knows how to pick 'em.
Rep. Wynn was the most lackadaisical grader of all, offering an opinion on Bush in only one of five categories of performance: small business (Bush got a D).
We must ask the question: Why was Wynn even there?
Grader number four was Claude A. Allen, at the time Bush's chief domestic policy adviser, who shortly thereafter resigned when it was revealed that he had been charged with stealing "clothing and cleaning products" from a Target store in Maryland. Allen seemed to have been on the Clarence Thomas track to black Republican fame and fortune, having made his bones as an aide to arch-racist former North Carolina Senator Jesse Helms. Until Allen's fall from grace, George Bush valued his opinions highly. Apparently, BE did too. The magazine pretended that a White House staffer who played a role in shaping Bush policies could be a trusted evaluator of the impact of these same policies on African Americans.
As could have been expect, Allen gave his president all A's and A+s – except for administration Aid to Africa, a topic he did not feel knowledgeable about.
The only two black opinions worth hearing on the BE panel – that is, the only president graders whose views bear much resemblance to those of most black folks – were political scientists Dr. Ron Walters, University of Maryland, College Park and Dr. Robert C. Smith, San Francisco State University. And here we see the absolute incredibility of the BE exercise: the two progressive black political scientists scored Bush higher than the three right-leaning congressmen, who had earned failing grades on the CBC Monitor Report Card for their habits of voting with Republicans!
Possibly professors Walters and Smith graded Bush on a scale of low-to-no expectations. We would have asked the good professors that question, if the BE survey methodology was worth taking seriously. But it isn't, so we didn't.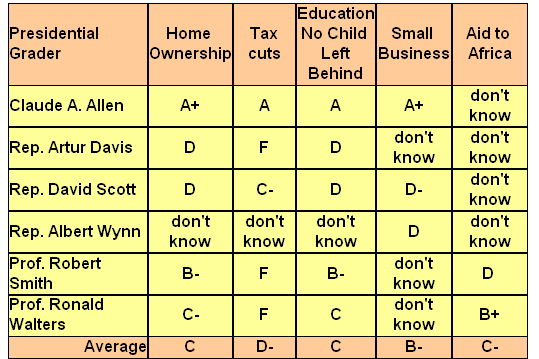 BE's 'Show and Tell'
The CBC Monitor grades Black lawmakers based on their votes on a list of "bright line" bills before the Congress. Although one can argue about what is, and is not a "bright line" issue of vital interest to African Americans, the methodology is transparent and understandable to the public and lawmakers, alike. Votes are tallied and the grades are allowed to fall where they may. The CBC Monitor welcomes debate over our choices of where to draw bright lines – that's a healthy thing to do, and advances the African American political dialogue around real issues. But Black Enterprise's arbitrary selection of "movers and shakers" to grade a president serves almost no useful purpose at all. It's all "show," and no "tell." Especially when half the graders are certified "Derelicts of the Congressional Black Caucus."
Leutisha Stills can be reached at [email protected]. The CBC Monitor's website is cbcmonitor.voxunion.com.