Is it possible that it has been ten years? Apparently so. And in this day when it seems like organizations and institutions come and go at the snap of two fingers, there is something to be said about BC not only being alive and kicking but growing.
As someone who has been associated with BC for a few years it is easy to get sentimental. It is also easy to not recognize many of the achievements of the magazine. What I point to with pride are actually two features of BC. The first is the diversity of writers and articles. The second is that it has become a reference point.
Over the years, BC not only expanded its readership but it made a conscious decision to diversify the writers and editors connected with the magazine. Someone recently asked me whether there was a particular political orientation that BC followed. I thought for a moment prior to responding and then noted that while BC is certainly to the left-of-center, when you look at the writers you cannot summarize their opinions into one word or term except to say that they are progressive. They come from different parts of the movement; they often emphasize different issues; and they have, on occasion, differences among themselves, including sometimes sharp differences. Yet, despite the diversity (and the differences of opinion), BC has been able to create a family in which those differences are accepted and respected. This is no small accomplishment.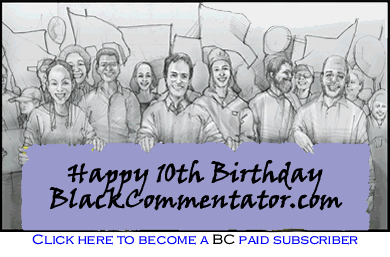 The second feature I mentioned is that BC has become a reference point. By this I mean that people in different movements want to know what the columnists affiliated with BlackCommentator.com have to say about different issues. Their commentaries are widely reprinted and re-posted. Being affiliated with BC is a badge of respect even among those who may disagree with the views of some of the writers.
As BlackCommentator.com proceeds into its second decade it has many challenges. One of the most important, and one that faces virtually every on-line publication, is that of fundraising. The availability of free media - irrespective of its quality - often makes it difficult for legitimate publications to raise funds and sustain their work. Readers frequently take for granted that the publication will continue, rarely questioning how the publication is put together and who is doing the work. Until we break with magical thinking, all our publications will be haunted.
BC will need to further explore expanding its media offerings. On-line conferences, for instance, are now quite feasible and can be done globally. BC has a role to play in this. While BC already is engaged in various aspects of social media, e.g., Facebook, Twitter, it needs to position itself as an instrument for the larger African World for purposes of communication and interchange. And certainly, as funds increase, BC will need to consider paid, investigative journalism. Too much on the Web is recycled news. We need to offer more.

So, this is a moment to applaud the work of the original team that constructed BlackCommentator.com; it is a time to reflect on the accomplishments and challenges of the last ten years; and a time to look forward and realize that no matter how good the magazine has been, it will have to evolve as we proceed deeper into the 21st century.
My hat goes off to the writers, editors, and publisher who have made this trip both exciting and possible.
Note: As BC observes 10 years of publication we offer a new feature titled "A Visit to the BC Archives" which will continue on a regular basis.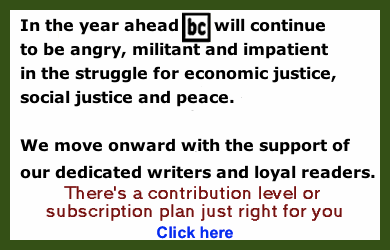 BlackCommentator.com Editorial Board member, Bill Fletcher, Jr., is a Senior Scholar with the Institute for Policy Studies, the immediate past president of TransAfricaForum and co-author of Solidarity Divided: The Crisis in Organized Labor and a New Path toward Social Justice (University of California Press), which examines the crisis of organized labor in the USA. Click here to contact Mr. Fletcher.