"Truth is on the side of the oppressed."
 --Malcolm X [el-Hajj Mailk el-Shabazz]
"The challenge remains. On the other side are formidable forces: money, political power, the major media. On our side are the people of the world and a power greater than money or weapons: the truth."
--Howard Zinn
An uninformed people, irrespective of color or gender, are an enslaved people.
The orator, former slave, and slave abolitionist Frederick Douglass, said unequivocally that "Knowledge makes a man unfit to be a slave." Indeed, well informed "knowledge" makes anyone, be they a  woman or a man, "unfit to be a slave." Or as the philosopher and author Albert Camus wrote many years later, "What better way to enslave a man than to give him the vote and tell him he's free." For women and men alike, to be informed is to make us "unfit" to be slaves. Enter the multi-national corporate-stream 'news' media and so-called 'educational' institutions of this nation.
The objective of the de facto corporate-stream 'news' media is to "make" and keep everyday Black, White, Brown, Red, and Yellow people fit to be systemic slaves of and for the corporate / military elite's plutocracy known as the United States of America.  It must be clearly understood that this nation does not have a so-called 'main stream' media. It does have a corporate-stream media overwhelmingly owned and manipulated by a blood sucking, profit-driven corporate elite.
The name of the insidious and despicable game of the corporate-stream media is to keep everyday people distracted, divided, at each other's throats, and woefully ill informed. The goal of the corporate-stream media is to form opinion, not inform opinion. Thus, there can be no well informed, intelligent debate, since the issues are framed by the corporate plutocracy in a vacuum of misinformation, disinformation, and/or omission.
With this understanding in mind, it becomes imperative that politically conscious people of goodwill cease seeking or even expecting the corporate-stream media to give us the full facts. It is simply not in their interests to do so. The everyday people's interests and needs be damned!
Therefore, corporate-driven wars are obscenely defined as somehow being in the ever-vague 'national interests.' Cold blooded extra-judicial internation kidnappings and assassinations are defined as eliminating  'high value targets,' and corporate greed and economic austerity for everyday people at home are defined as so-called 'right to work' legislation.
There is a growing legitimate anger and a concomitant increasing consciousness in this nation on the part of everyday people but don't expect the corporate-stream media to inform you of it. It is not in their interests to do so. There is also a growing movement in this nation on the  part of everyday people of all colors who are organizing around and demanding real social and economic justice. But once again, don't expect to be seriously informed about this by the corporate-stream media.
It is time to understand that in the context of the everyday people's struggle for genuine systemic change in this nation and globally, the corporate-stream media is both irrelevant and simultaneously extremely dangerous. One does not have to totally ignore the corporate-stream media,  but understand clearly what its objectives are, which have nothing whatsoever to do with serving or fully informing we everyday people.
We must creatively develop the ways and means to inform and communicate with one another by forming and supporting an everyday people's media. Make no mistake about this: the corporate vultures will of course attempt to subvert this process as well, but everyday people can be very creative, and the time is at hand when we must use this creative ingenuity in the interests of we everyday people.
Stop looking to the blood sucking vulturous corporate-stream media to be anything other than precisely what it is: manipulators of the people - and nothing more. The only "truth" and the only "media" that is truly relevant is that of the everyday people.
There's much work to be done. Let us get busy and stay busy organizing in the struggle for real  systemic change in the interests of just plain, ordinary, everyday people.
Onward then my sisters and brothers! Onward!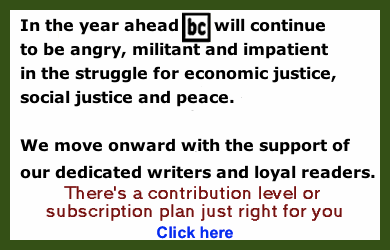 BlackCommentator.com Editorial Board Member, Larry Pinkney, is a veteran of the Black Panther Party, the former Minister of Interior of the Republic of New Africa, a former political prisoner and the only American to have successfully self-authored his civil / political rights case to the United Nations under the International Covenant on Civil and Political Rights. In connection with his political organizing activities in opposition to voter suppression, etc., Pinkney was interviewed in 1988 on the nationally televised PBS News Hour, formerly known as The MacNeil / Lehrer News Hour. For more about Larry Pinkney see the book, Saying No to Power: Autobiography of a 20th Century Activist and Thinker, by William Mandel [Introduction by Howard Zinn]. (Click here to read excerpts from the book.) Click here to contact Mr. Pinkney.