Dear Supporters,
On March 25th I begin my three year sentence at the Minimum Security Camp at the Hazelton Penitentiary in Bruceton Mills, West Virginia.
A) My appeal:
I asked the Federal Court to appoint an lawyer for my appeal since I am indigent based on my removal from the Boston City Council. They agreed and I have been assigned a Boston lawyer, Charles Rankin, who is viewed as one of Boston's best appeal lawyers. He says that he thinks he will be ready by the fall to make a presentation to the First Circuit Appeals' Court Panel. However, given his view of the difficulty of overturning cases on appeal, he warns against becoming optimistic regarding success.
B) My suit against the City for unjust termination:
My pro bono lawyer is this court action, Chester Darling, is very confident that we should win the basic argument that they did not have a legal right to remove me. However, he is not sure whether we will be able to succeed in a suit for damages.  Attorney Darling will argue the case before the Massachusetts Supreme Judicial Court (SJC) no later than September of this year. The SJC has agreed to hear the issues and report their finding to the Chief Justice of the Massachusetts Federal Court based on his request to them for guidance.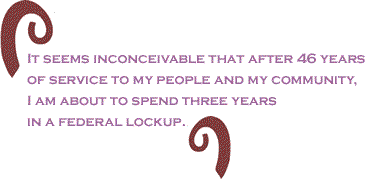 C) My presentation Thursday, March 24th to a forum at N.U. Law School:
I am one of the participants in a Forum at N.U. Law School this Thursday, March 24th, at 7 p.m. at Dockser Hall, room 240, at 65 Forsythe Street. The focus of the Forum is Crimes Under Color of Law. Speakers will focus on "criminal collusion" between the FBI and the MA US Attorney's office over the last 4 decades. At the end of the forum there will be a call for organizations to come to a meeting in early April to organize a community based commission to continue the expose of injustice at the Justice Dept.
D) See You Soon!
It seems inconceivable that after 46 years of service to my people and my community, I am about to spend three years in a federal lockup. However, as the song says, "Keep your Eyes on the Prize". Don't let the defeats in the struggle for justice distract. Given the 400 year experience of our ancestors, I have no right to complain despite the injustice of it all.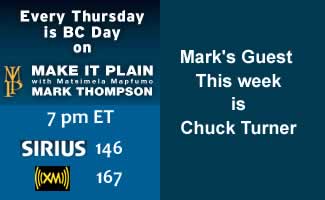 Terri and I thank you for your wonderful support. It reminded us what community really means. How can you help? One way is to help retire the debt owed to us by the campaign. All checks should be sent to Committee to Reelect Chuck Turner, P.O. Box 190251, Roxbury 02119.
The most important assistance is to stand up and fight back whenever you see injustice. You and I know that former US Attorney Sullivan's objective was to break our spirit. They now know they can't break mine. Show them they can't break yours.. Be part of the unending Chain of Change! Don't complain! Fight Back! .
Former US Attorney Sullivan has failed. His purpose was to silence me. However, he is learning that while his system can put my body in jail, my spirit and voice remain free. You can access my writings at here on BlackCommentator.com and SupportChuckTurner.com. 
A Luta Continua—The Struggle Continues!
Chuck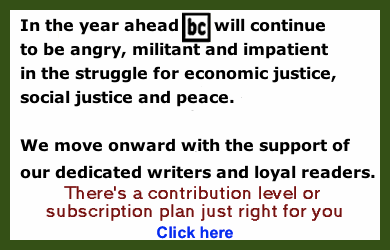 BlackCommentator.com Editorial Board Member Chuck Turner - Served as a member of the Boston City Council for ten years and eleven months. He was a member and founder of the Fund the Dream campaign and was the Chair of the Council's Human Rights Committee, and Vice Chair of the Hunger and Homelessness Committee. Click here to contact Mr.Turner or write to him at the following address:
Hazelton Minimum Security Camp
Bruceton Mills, WV 26525