The current issue is always free to everyone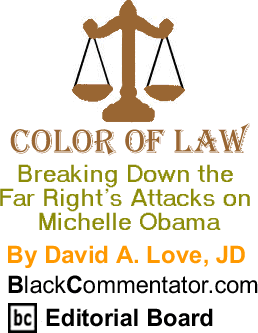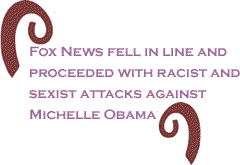 O'REILLY: I don't want to go on a lynching party against Michelle Obama unless there's evidence, hard facts, that say this is how the woman really feels. If that's how she really feels - that America is a bad country or a flawed nation, whatever - then that's legit. We'll track it down.
THOMAS: Look at the image of angry black women on television. Politically you have Maxine Waters of California, liberal Democrat. She's always angry every time she gets on television. Cynthia McKinney, another angry black woman. And who are the black women you see on the local news at night in cities all over the country. They're usually angry about something. They've had a son who has been shot in a drive-by shooting. They are angry at Bush. So you don't really have a profile of non-angry black women.
A term used to define an unmarried young woman (but can be a woman of any age) who has had a child. As mentioned before in another definition, most of the time it is used for when it was simply a sexual relationship, compared to ex-wife or girlfriend. Usually this has a negative connotation, a lot of baby mamas are seen as desperate, gold digging, emotionally starved, shady women who had a baby out of spite or to keep a man. Sometimes they may act like this because of missed child support payments, unfulfilled promises by the father, or convenient sex by the father. Either or both may exist in any situation.



Any BlackCommentator.com article may be re-printed so long as it is re-printed in its entirety and full credit given to the author and www.BlackCommentator.com. If the re-print is on the Internet we additionally request a link back to the original piece on our Website.
Your comments are always welcome.
If you send us an eMail message we may publish all or part of it, unless you tell us it is not for publication. You may also request that we withhold your name.
Thank you very much for your readership.



June 19, 2008
Issue 282

is published every Thursday
Executive Editor:
Bill Fletcher, Jr.
Managing Editor:
Nancy Littlefield
Publisher:
Peter Gamble
Est. April 5, 2002
Printer Friendly Version in resizeable plain text format or pdf format.