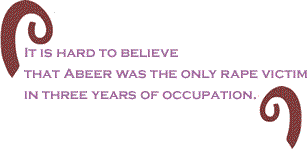 How is a rape and murder planned? Does one man casually say, "She's hot, let's rape her," and hope that someone else says, "Hell yes!" Is the crime spelled out, or are there mutually understood winks and nudges. Is the conversation brutal or casual and banal?
Abeer Qasim Hamza and her family are now dead because of those chilling words, however they were spoken. Her countrymen and women are still being killed and imprisoned so they can be better off. That is what the president and most members of Congress tell us. Abeer and thousands like her have to be shot, imprisoned, raped and killed for their own good.
Abeer was fifteen and lived in Muhmadiya, Iraq. If she was a typical Iraqi rural girl, she dressed very modestly, and didn't leave home very often. Her parents' adherence to custom didn't help her very much with armed infidels on the loose. Maybe they were tired of seeing women covered when they wanted to see women uncovered. Maybe any female who walked by at the wrong moment would have been targeted.

Abeer's family knew that she had caught the eye of American soldiers. Her parents complained that soldiers at a nearby check point repeatedly searched their home. They rightly believed that Abeer was the true object of attention. A cousin offered to help them move into an empty house, but they declined. "There are a lot of families close to us, and nothing bad will happen."
Steven D. Green hails from Midland, Texas, just like George and Laura. Aside from claiming the same hometown as the president, there is nothing distinctive about him. He dropped out of high school, and later earned a GED. He joined the army after being charged with a misdemeanor possession of alcohol.
Green is now known around the world as one of a group of soldiers who targeted Abeer for rape and death, and according to the other participants killed her mother, father, and younger sister as well. As the arrest warrant for Green states, the rape and murders occurred "with malice aforethought." In plain English, they planned their crime.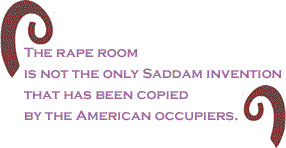 The most often repeated justification for the invasion and occupation of Iraq was that Saddam Hussein was a cruel, evil dictator. Over and over we heard about "rape rooms." It was never made clear if those words were posted on the doors, but the stories of  Saddam's henchman setting aside space for rape were endlessly repeated, including by George Bush and Tony Blair. It was just the latest example of a gruesome tale conveniently told when governments want permission to kill.
The rape room is not the only Saddam invention that has been copied by the American occupiers. Abu Ghraib was the place for death and torture under the Hussein regime. Now it is the place of torture for the American regime that rules Iraq.

It is all spelled out in Green's arrest warrant.
According to SOI3 (Source of Information), GREEN and KP1 (Known Participant) proceeded to have sex with a woman. After GREEN was finished having sex with the woman, SOI3 witnessed GREEN stand up with an AK47 in his hand. GREEN walked over to the woman and shot her several times.
The murders took place on March 12, 2006 and were immediately reported to the U.S. military. No effort was made

to find perpetrators. It was dismissed as an Iraqi on Iraqi crime.
It is difficult to believe that no one in the military knew the truth. Americans were not officially suspected until two soldiers came forward with information during counseling sessions that took place three months later. By that time Green had been discharged with a "personality disorder." He now awaits trial in federal court as a civilian.
How many Abeers are in Iraq? It is hard to believe that she was the only rape victim in three years of occupation. How many Greens are there in the military? It is taboo to even ask the question. No American politician, even those speaking against the occupation, discuss it without reference to "our brave men and women in uniform."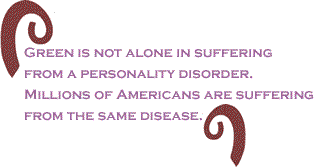 The army, the courts and the Bush administration will probably make an example of Green and company. It will be politically expedient for them to do so, but they should not be let off the hook so easily.
Green and the Known Participants and the Sources of Information are not the only guilty parties. The politicians who sent them to Iraq are guilty. Americans who wanted to "finish the job" and "take out Saddam" are guilty too. Everyone knows that atrocities are inevitable in war, but they clamor for it anyway.
Americans have now turned against the occupation only because it is harder than they thought. They are no more worthy of deference than Bush and Cheney and they should not be allowed to escape vilification either. Green is not alone in suffering from a personality disorder. It must be contagious because millions of Americans are suffering from the same disease.
Margaret Kimberley's Freedom Rider column appears weekly in BC. Ms. Kimberley is a freelance writer living in New York City. She can be reached via e-Mail at [email protected]. You can read more of Ms. Kimberley's writings at freedomrider.blogspot.com.